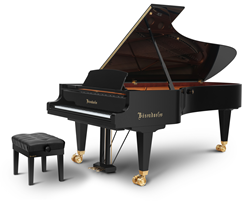 "This model captivates with its extraordinarily rich resonance and its dynamic possibilities," said Paul Badura-Skoda, current holder of the Bösendorfer ring.
ANAHEIM (PRWEB) January 29, 2016
Bösendorfer featured its new 280VC Vienna Concert grand piano last week at the 2016 NAMM Show. Built for the 21st century performer, this instrument represents a culmination of the legendary company's rich experience and tradition of piano making, combined with the most sophisticated scientific technologies and computer aided design methods.
Even in the context of the company's enviable 187-year reputation for creating the world's most sought-after handcrafted pianos, the Bösendorfer 280VC is a game-changer in the world of concert grands. This extraordinary piano features an incomparable sound, wide spectrum of tonal colors, dynamic range and expressiveness ideally suited for modern concert halls and performance venues, as well as for any genre of music, including chamber, classical, contemporary piano concertos, jazz and beyond. Officially introduced in the fall of 2015, the piano has already been heard in Carnegie Hall and Lincoln Center in New York; Strathmore Hall in Maryland, as well as Vienna's Musikverein and Konzerthaus and the Verbier Festival in Switzerland.
The result of a comprehensive multi-year development program, the 280VC represents Bösendorfer's pursuit of perfection in each and every detail of the piano, from the quality of materials to its hand-crafted construction. The result is an exceptionally versatile and powerful concert stage instrument that meets and exceeds all the expectations and needs of today's performances and venues. Like all of its pianos, Bösendorfer designed the 280VC to achieve the ultimate level of dynamic response and the distinctive Viennese Bösendorfer sound. Using the company's exclusive resonance case principle, this model presents performers with an unparalleled spectrum of diverse tonal colors to express themselves.
For the 280VC, Bösendorfer employed an entirely new construction and design concept. A modification to its action makes it a very accessible instrument that puts the pianist at ease from the first note they play. Also new to the model's build are:

Optimized placement of the string section and bridges at the soundboard for even string load, thus supporting the flexibility and effectiveness of the soundboard assembly resulting in improved sustain, projection and dynamics.
A soundboard base with a rim system made of solid beech for a stable 3-dimensional soundboard crown leading to enhanced resonance, dynamic ability and sustain.
A ribbed crown following the exact same ellipsoid segment for a consistent soundboard crown, allowing more flexibility and improved resonating activity.
"It is our mission to inspire artists and provide the means to find and express their voice," said Simon Oss, premium piano marketing manager, Yamaha Corporation of America. "We have already heard feedback from many of the renowned performers who have had a chance to play the 280VC, and they have told us how inspiring they find the instrument and that they are very excited by all the creative possibilities it opens up for them."
The Bösendorfer 280VC was developed with the close involvement of numerous pianists and music experts who contributed invaluable input for the ultimate refinement of the piano, including Sir András Schiff, Paul Badura-Skoda and Aleksandra Mikulska.
"I am surprised that improvements are still possible in modern piano building. Without abandoning the legendary qualities...this model captivates with its extraordinarily rich resonance and its dynamic possibilities...absolutely brilliant," said Paul Badura-Skoda, current holder of the Bösendorfer ring.
"Congratulations – I have always been a friend of Bösendorfer but with this instrument you will win many new friends," said Sir András Schiff, who has already performed on the 280VC throughout Europe and the United States. Sir András Schiff is also scheduled to return for a tour of major North American cities in early 2016, performing on the Bösendorfer 280VC.
Pricing and Availability
The Bösendorfer 280 VC concert grand piano (MSRP: $219.999) is now shipping.
For more information, visit http://4wrd.it/BosendorferTour
-END-
About Bösendorfer
Bösendorfer was founded in 1828 in Vienna, Austria and has been the instrument of choice for many of the world's most famous artists and composers. This limited production, handcrafted instrument remains one of the most sought after instruments for musicians, institutions and piano enthusiasts worldwide.