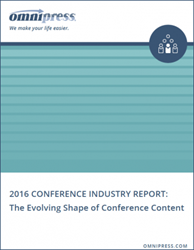 The 'rules of the road' are changing faster than ever, thanks to new technologies and shifting demographics.
Madison, WI (PRWEB) January 20, 2016
In a 2016 State of the Conference Industry Report published by Omnipress, sixty percent of association conference planners indicate they are seeing a shift in how attendees prefer to receive conference content--but many associations are still unsure of how to respond.
Omnipress, provider of print and digital content solutions for associations and other organizations, conducted an online survey of 151 association professionals, a majority of whom are primarily responsible for conference planning, to understand the current state of conference content, predictions for 2016, challenges, and how well organizations are positioned for the future.
"We are fielding more and more questions from conference planners on the most effective way to implement an integrated content strategy," says Omnipress' Vice President of Business Development, Steve Manicor. "It's more than simply taking a printed piece and digitizing it. Our customers are challenged with offering the right mix of both print and online content that meets conference objectives, serves a diverse group of attendees, and increases visibility for their organization beyond the conference." Adds Manicor, "as membership among younger generations—Millennials and Generation Z—continues to grow, this throws another wrench into the status quo."
The survey was written and administered by Omnipress. Educational content developed specifically for conferences was the focus of the survey; other aspects of the conference planning process (venue, food and beverage, program delivery, registration and technology, etc.) were not included in this survey.
"There are some very interesting forces at play right now," states Tracy Gundert, Omnipress' CEO. "Post-recession membership growth appears to have slowed for many associations; and, conference budgets are expected to remain relatively flat. This means increasing conference attendance and retention among an existing member base will be a high priority for planners in 2016." According to survey results, 68% of respondents acknowledge that the greatest value their conference provides is knowledge and education. "In other words, when it comes to meeting conference goals, content is king, and it will have to continue to work even harder for associations in the future." notes Gundert. "But, the 'rules of the road' are changing faster than ever, thanks to new technologies and shifting demographics."
To read the full survey results, visit the Download the Report on Omnipress.com and download "2016 State of the Industry Report: Conferences."
About Omnipress
Omnipress makes it easy for associations to collect, produce and distribute print and digital content. Our services include:
--Online Abstract Management
--Digital Publishing Platforms
--Conference Printing
--Event Content Websites
--Mobile Event Apps
--Poster Print, Fulfillment, and Online Access
--DVD and USB Production
--Print-On-Demand and Order Fulfillment for Continuing Education Training