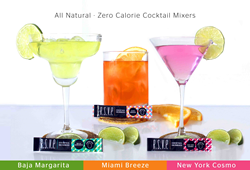 Miami, FL (PRWEB) January 20, 2016
Losing weight, eating healthier, working out more, drinking less, some of the most common New Year's resolutions that are made every year. Typically only 46% of people will keep that resolution past the first six months! There are many different options to make eating healthier and losing weight easier and now, with R.S.V.P. Skinnies Cocktail Mixers cocktails can be enjoyed with no extra calories!
Made with only the best quality 100% plant-based ingredients, no sugar, no preservatives, and most importantly zero calories, R.S.V.P. Skinnies are the perfect mixer for the calorie conscious cocktail lover. Cocktail Skinnies are a quick and easy solution that can be taken on-the-go. There's no need to worry about those sugary fruity cocktails being served at that upcoming bridal shower, or annoying the busy bartender with a request for a special lower calorie version of a favorite happy hour cocktail. All that is needed to create a great tasting cocktail is one stick-pack of R.S.V.P. Skinnies, six ounces of water, one ounce of liquor (either rum, vodka or tequila), stir or shake, and there it is– the perfect low calorie cocktail.
R.S.V.P. Skinnies Cocktail Mixers come in three delicious "Happy Hour" flavors, including: Baja Margarita, Miami Breeze and New York Cosmo. Unlike most liquid cocktail mixers, all of the ingredients are plant based and recognizable, such as the natural erythritol and stevia sweeteners that are used to give the drink mixers a subtle sweetness with no aftertaste. According to multiple online calorie counters, six ounces of a liquid Margarita mix comes in at around 187 calories, six ounces of Cosmopolitan mix packs a huge caloric punch with 480 calories, and just over 100 calories for a Cranberry/Pineapple juice combination that is the base of a Bay Breeze cocktail. And these numbers have not yet factored in the calories in the one-ounce of alcohol that is also added. By simply switching from a traditional liquid cocktail mixer to R.S.V.P.® Cocktail Skinnies, it's easy to save 200-1,000 calories on a night of cocktails.
R.S.V.P. Skinnies are available at http://www.rsvpskinnies.com and on Amazon.com.
For more information about R.S.V.P. Skinnies or to receive media samples, please contact April Donelson at april(at)adinnyc(dot)com.