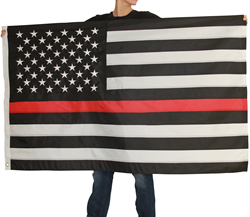 Everyday heroes should be recognized and honored every day
Chicago, IL (PRWEB) January 28, 2016
Fine Line Flag creates products that honor everyday heroes. The latest release is a black, white, and red 3 x 5 foot banner in the style of the American flag. The emblematic single red stripe refers to the "thin red line" and honors firefighters. Detailed construction sets the flag apart. Embroidered stars and individually sewn stripes are key features. Durable 210D nylon enhances performance because it dries quickly, resists fading from UV rays, and wards off mildew. Other details include brass grommets and four rows of stitching in the fly hem. According to Fine Line's founder, "we strive to make products that are worthy of the tributes they represent."
The phrase "thin red line" has a rich history. In 1854 William H. Russell was reporting on the Battle of Balaclava during the Crimean War. When the 93rd (Sutherland Highlanders) Regiment of Foot held off the Russian Cavalry against all odds, Russell described the Highlanders as a "thin red streak tipped with a line of steel". For brevity this became known as the thin red line. Later, Rudyard Kipling referred to the same courageous foot soldiers when he penned the line, "Thin red line of 'eroes" in a poem called Tommy. In 1962, a novel by James Jones titled "The Thin Red Line" chronicled a group of World War II soldiers. Subsequently two feature films were based on the novel. Time and time again the phrase has been used referring to a line of courage that cannot be defeated.
Recently, the thin blue line has gained popularity as a symbol to honor and show support for law enforcement officers. Naturally, the thin red line has come to symbolize the bravery and sacrifice that firefighters make every day. According to the National Fire Protection Association, every 24 seconds a fire department in the U.S. is dispatched on a call. Today there are approximately 1,140,000 active firefighters in the U.S. alone. What stands between harm's way and the citizenry is a thin red line of brave and committed firefighters.
For more information on the history and use of these symbols supporters are encouraged to visit the Fine Line Flag Facebook page and watch their videos.
In addition to the new release, Fine Line Flag also offers the same quality Thin Blue Line Flag honoring police officers. Friends and family looking to show support can purchase both flags through Amazon. The flags retail for $24.99 but for a limited time enter coupon code "Fireflag" to receive a 10% discount. All Fine Line products are backed by a 100% money back guarantee which promises a full refund. No questions asked if dissatisfied.
Fine Line Flag supports and makes regular donations to the National Fallen Firefighters Foundation, the National Law Enforcement Officer Memorial Fund, and the Officer Down Memorial Page (ODMP).