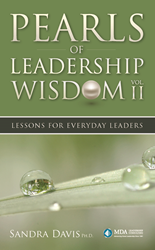 In "Pearls of Leadership Wisdom, Volume II", Davis demonstrates a magical ability to translate complex leadership and talent development subjects into clear and actionable solutions. --Jeff Jennette, President, Macy's, Inc.
Minneapolis, MN (PRWEB) January 21, 2016
"The most powerful lessons of leadership do not come at once, but are learned and re-learned through time, trial and error." —Sandra Davis, Ph.D.
Great leaders have a seemingly boundless drive to learn, improve, and grow themselves and others. In "Pearls of Leadership Wisdom, Volume II", leadership expert Sandra Davis relates what she's learned during a lifetime of counseling top companies and their leaders throughout North America.
All leaders need to regularly "lift up their eyes and be mindful of the world around them," says Davis. As chair and co-founder of MDA Leadership Consulting, she is widely recognized as an industry thought leader. Often quoted in The Wall Street Journal, Davis counts many Fortune 500 firms among her clients. She specializes in working with CEOs and boards on CEO selection and succession planning, senior-executive talent strategies, and executive coaching for C-suite leaders.
Founded in 1981, MDA Leadership's mission is to help organizations solve their talent management and leadership development challenges to continue to create a competitive talent advantage through their employees.
With more than 30 years of wisdom from Sandra Davis in this impactful collection, "Pearls of Leadership Wisdom, Volume II" is intended for every leader who seeks to become even better.
"Each of us has at least some of the answers and by revealing our ideas and experiences we are able to enrich others. That's really what Sandra Davis is all about: sharing her ideas, experiences and knowledge to help enlighten, improve and benefit others." — Reatha Clark King, Ph.D. Board Chair, National Association of Corporate Directors (NACD)
Davis earned her Ph.D. in counseling psychology with an emphasis in industrial/organizational psychology from the University of Minnesota. She is a fellow of the Society of Industrial and Organizational Psychology and of the American Psychological Association. She has authored articles related to assessment, leadership development, coaching, and succession, and the original volume of Pearls of Leadership Wisdom and Reinventing Yourself: Life Planning After 50.
********
Pearls of Leadership Wisdom, Volume II by Sandra Davis, Ph.D.
MDA Leadership Consulting
$17.95 Hardcover ISBN: 978-0-9857503-2-9
$7.16 Ebook ASIN: B0153VNIYK
Pub Date: March 15, 2016