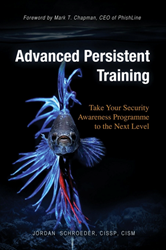 Milwaukee, WI (PRWEB) January 20, 2016
Jordan Schroeder, information security expert and a moderator of the Security.StackExchange.com forum, has released his book titled, "Advanced Persistent Training: Take Your Security Awareness to the Next Level." The book is directed toward Information Security professionals who are required by regulation or policy to provide security awareness training and wish to maximize the training's effectiveness.
With a foreword written by contributor Mark T. Chapman, President and CEO of PhishLine, LLC, the book explains how Security Awareness programs can work with people by using behavioral modification and coaching techniques in order to efficiently achieve measurably higher levels of compliance, engagement, and effectiveness.
The book offers insights by high-level officials of several worldwide Security Awareness companies. Schroeder uses these interviews to help readers understand their user's strength and weakness, then devise training strategies that take advantage of both.
To learn more, visit advancedpersistenttraining.com. The book is available now on Amazon.com and Amazon.co.uk.
About Jordan Schroeder
Jordan Schroeder is a former department head at a technical school and corporate trainer. As an information security expert and a moderator of the Security.StackExchange.com forum, he is dedicated to researching and delivering effective and innovative methods to teach professionals and laypeople alike how to digitally secure their organizations and the assets they control.
About PhishLine
Headquartered in Milwaukee, WI with offices in Chicago, IL, and Cincinnati, OH, PhishLine specializes in helping Information Security Professionals meet and overcome the increasing challenges associated with social engineering and phishing threats. PhishLine provides a powerful blend of risk-based objectivity and robust metrics and reporting to human layer security efforts. To learn more about PhishLine, please visit us at PhishLine.com and follow us on Twitter @PhishLine.