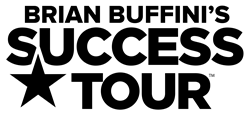 "This year's Success Tour is an opportunity for real estate professionals to walk away with a deeper understanding of how to use technology to enhance their client relationships and to cut through the clutter of shiny tech toys." - Brian Buffini
Carlsbad, CA (PRWEB) January 20, 2016
January 2016 – Brian Buffini's Success Tour will kick-off the highly anticipated 2016 line-up with its first stop scheduled for Seattle on February 9-10, and continuing on to four other locations across North America including Richmond, Virginia; Long Beach, California; Fort Worth, Texas and Toronto, Ontario.
Last year's Success Tour broke attendance records with over 35,000 real estate professionals either live streaming or attending the live broadcasts. The 2016 Success Tour is set to break those records, promising an all new lineup and rock-star energy as Brian Buffini shows attendees how to bridge the critical gap between technology and relationships.
"There's a lot of confusion about technology right now," explained Buffini. "This year's Success Tour is an opportunity for real estate professionals to walk away with a deeper understanding of how to use technology to enhance their client relationships and to cut through the clutter of shiny tech toys."
Each stop of the 2016 Success Tour will feature exceptional special guest speakers including social media guru Scott Stratten, the powerful story of Nick Vujicic (Seattle), the world's leading expert on fascination Sally Hogshead (Richmond), Hall of Fame basketball player, Olympic Gold Medalist and master businessman Magic Johnson (Long Beach), Hall of Fame football player and the NFL's all-time leading rusher Emmitt Smith (Texas), and founder & CEO of Karrikins Group, Peter Sheahan (Toronto).
"Through Brian's real-world experience and the insight of our guest speakers, there is a limitless amount of knowledge to be gained from watching the Success Tour from your office or from attending the event in-person," said Dermot Buffini, CEO of Buffini & Company. "It is our mission at Buffini & Company to impact and improve the lives of people. The 2016 Success Tour will undoubtedly fulfill that mission for all who attend."
After the February 9-10 stop in Seattle, the Success Tour will move on to the four other locations, each offering the option to be streamed live, giving agents and lenders the flexibility to watch from the comfort of their offices. For additional information or to register to attend any of the events in-person or via Live Broadcast, visit http://www.buffiniandcompany.com or call 800-945-3485 x 2146.
###
About Buffini & Company
Buffini & Company is the largest real estate coaching and training company in North America. Founded by industry expert Brian Buffini, the company provides its members with systems for 'Working by Referral'. This unique and highly effective lead generation system and business coaching programs have helped entrepreneurs in 37 countries improve their business, increase net profit and enhance their quality of life. Members of Buffini & Company's One2One Coaching™ program earn eight times the NAR (National Association of Realtors) national average (USA). Buffini & Company is headquartered in Carlsbad, California.
About Brian Buffini
Brian Buffini was born and raised in Dublin, Ireland, and immigrated to San Diego in 1986 where he became the classic American rags to riches story. After becoming one of the nation's top realtors, he founded Buffini & Company—an organization dedicated to sharing his powerful lead-generation systems with others. Today, Brian travels the world sharing a message of encouragement about how to "live the good life." His wit, wisdom and motivational style make him a dynamic speaker adept at helping people tap into their full potential and achieve their dreams.