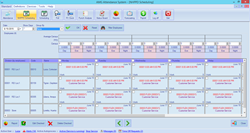 Our PBJ export feature is compatible with CMS's reporting system
Los Angeles, CA (PRWEB) January 21, 2016
AMGtime has been known for providing organizations with a vast range of time and attendance solutions. Having assisted businesses for over 20 years, the Los Angeles based company has recently added the Payroll-Based Journal (PBJ) export feature to be utilized by nursing homes.
Section 6106 of the Affordable Care Act (ACA) has made it a mandatory requirement to submit staffing and census data on nursing homes in the United States. Centers for Medicare & Medicaid Services (CMS) has implemented PBJ to assist nursing homes in the submission of the mandatory reports.
Back in October 2015, CMS gave nursing homes the choice to report their staffing and census data on a voluntary basis. As of July 1, 2016, they plan to make it a mandatory practice for nursing homes located throughout the United States to submit information about their staff through the PBJ system.
AMGtime realizing the importance of reporting staffing and census data to the government authority long before it became a compulsory requirement, implemented this feature in place to make it easier for nursing homes to export an XML file and import it into PBJ.
Last year already, the company launched its Nursing Hours Per Patient Day (NHPPD) module, which enabled nursing homes to do the following:

Staff and census reports based on flexible timelines.
Calculate staffs daily hours for reporting and for shifts.
Perform projected schedule reports based on expected census numbers.
Now with the addition of the PBJ feature, clients can also:

Map internal employment descriptions to CMS job categories.
Produce XML output compliant with the requirements of CMS for efficient electronic filing.
According to the representative of the company, "Our PBJ export feature is compatible with CMS's reporting system. Nursing homes that already have our system in place can start taking advantage of our PBJ export feature immediately. Nursing homes without it are encouraged to contact us before July 1, 2016—the date where submitting staff and census data will become mandatory— to inquire about our system and to understand how it can assist them meet the reporting requirements established by CMS, and all at a very affordable price."
About the Company
With more than 20 years of experience, AMGtime is a national leader in time attendance products, services and products. This innovative Los-Angeles company has a passion for offering employers advanced time attendance systems that boost the efficiency and accuracy of time and payroll records and facilitate our customers to select the best solution to meet their needs.
Time attendance solutions from AMGtime will not only help you manage your employee and attendance system but also facilitate you to focus your organizational resources where they should be – on managing your business. The company offers a comprehensive range of time and attendance products and services.