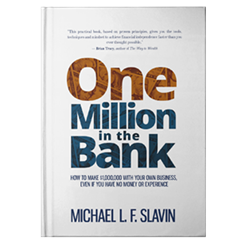 "'One Million in the Bank' takes some of the fear and guesswork out of launching a business. It outlines an action plan, is packed with resources and, ultimately, helps people avoid some of the pitfalls of starting a company." -- Michael F. Slavin
Houston, Texas (PRWEB) January 20, 2016
Michael F. Slavin, president of Houston-based U.S. Emerald Energy, a gas and oil exploration company, has received the Gold Award from the Nonfiction Authors Association for his book, "One Million in the Bank". The book focuses on starting a small business, with practical advice about forming a business plan, finding investors, and taking advantage of the free information and help that is available to small business owners through agencies such as SCORE or the SBDC.
The Nonfiction Authors Association is dedicated to providing education, resources and support for nonfiction authors. Its Gold Award, the highest available, is given to books that meet its high standards for writing and production quality, based on a set of specific criteria as evaluated by several judges. It was recently announced that "One Million in the Bank" had officially received the Gold Award.
Michael F. Slavin was raised by his grandparents in St. Joesph, Missouri, and graduated from West Point Academy. After serving 10 years in the U.S. Army he entered the private sector, where he spent several years struggling to make ends meet. He eventually filed for bankruptcy before he decided to start a business of his own. In just over three years, he had earned his first million dollars.
"One Million in the Bank" gives readers practical advice Michael F. Slavin has learned over the years through the process of developing his own successful businesses. This includes information about choosing the type of business to start, researching similar businesses, forming a comprehensive business plan, finding investors and marketing a business successfully.
"So many people dream of owning their own business, but they don't know where to start," said Slavin. "'One Million in the Bank' takes some of the fear and guesswork out of launching a business. It outlines an action plan, is packed with resources and, ultimately, helps people avoid some of the pitfalls of starting a company."
The book emphasizes that, often, choosing an existing business model, doing the appropriate research and forming a good business plan is the best path to success. It offers advice for getting help from agencies that support small businesses, such as SCORE, Small Business Development Centers, Women's Business Centers or the Veterans' Office of Business Development.
It also offers suggestions for acquiring capital, including securing Small Business Administration loans and finding investors, especially what the author calls "undiscovered investors," which are friends, family, colleagues, or even strangers with small amounts of money who are willing to invest in a business that has a promising business model and competent leadership.
In addition to "One Million in the Bank," Michael F. Slavin has also written two companion books, "Veteran's Guide to One Million in the Bank" and "Women's Guide to One Million in the Bank", which detail cases of veterans and women who have successfully applied the advice featured in "One Million in the Bank".
More information and an excerpt can be found at http://www.OneMillionInTheBank.com. The book is available online at http://www.amazon.com.
Michael F. Slavin, is a West Point Graduate, a veteran with 10 years of service in the U.S. Army, and he has over 30 years of management experience.