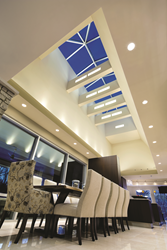 El Monte, California (PRWEB) January 21, 2016
Engineered Lighting Products (ELP) posts eight new video product presentations covering their premier LED luminaires. ELP has been manufacturing specialty lighting to enhance architectural spaces for over 30 years. Knowledgeable ELP lighting professionals show and share information about ELP's leading I.C. Rated LED products currently being utilized on projects. Detailed information on fixtures is personally imparted in a casual manner to facilitate specifier understanding of product usage and applications.
Mr. Pete Morales LC, National Sales Manager, along with Mr. John Linell, Regional Sales Manager, familiarize viewers with several leading specialty lighting products being designed and manufactured by ELP. An interestingly diverse array of products are presented, from cove lights to wall washers, from the top of the space with down lights to the bottom with step lights and even video conference fixtures. The brief presentations acquaint specifiers with basic features without having to study technical specification sheets.
Cove lights that provide very different benefits, usage and final appearance are covered on two of the videos presentations. The small asymmetric CLM Series cove lights can be placed in very small, narrow coves that have been built by others or ordered in a "surface mount" version with a clean, textured finish suitable for direct viewing, outside of a cove. Both cove lights discussed are performance-based and designed to provide usable ambient lighting in the space, but the fixtures offer very different finished looks. While the CLM is a fabricated metal cove light, the CLC is so much more. The CLC Series is a complete decorative cove lighting system. Several standard decorative, cast GRG (Glass-fiber Reinforced Gypsum) cove styles are available and provided with high performance asymmetric reflector sections to mount within the prefabricated cove.
Other cast GRG luminaires included with individual videos are the patented "Hole in the Ceiling" (HITC Series) down lights with several round and square apertures and the appropriately named "Hole in the Wall" (HITW Series). The HITW offers numerous apertures and lamping options providing an asymmetric wash of light to illuminate the wall, floor or ceiling. These patented, cast products integrate into the structure and become part of the wall or ceiling, without any visible metal in the normal viewing angles. Once installed, they appear to be a custom built drywall light niche.
Two of ELP's most competitive performance fixtures covered in the videos have very similar throws of asymmetric light; however, one is an exterior, low-level flood light while the other is an interior fixture to wash light over walls, floors or ceilings. A patented one-piece, formed reflector design utilizing high reflectance aluminum is incorporated in both luminaires and provides comparable performance. While the versatile AK Series interior wall washer ordinarily recesses into the ceiling, it is shallow enough to often be mounted into a standard stud wall to light the floor or ceiling. Several models and styles are shown in the video presentation. The most recent AK Series LEDs were recognized by the Illuminating Engineering Society when they were accepted into the prestigious "IES Progress Report" after being introduced. Over 8700 lumens are delivered with the AK Series LED four foot, 88 watt, wall wash. The exterior cousin to the AK Series' performance is the recessed CP Series which is suitable for concrete pour and the complementary surface mount WLS Series. Performance levels and unique attributes, such as regressed lenses, are presented for specifiers' consideration.
The tiniest contenders in the ELP product line and new videos are the various styles of the LS Family. These IC Rated LED interior and exterior step lights provide a surprising punch of light at only 2 and 4 watts with a LER (Luminaire Efficacy Rating) to 38 in some models. The small, 3"H x 3"W x 5"L, interior, LS Series offers versatile mounting options and finishes, such as the 2-hour, fire-rated or cost saving "back to back" installations in a trimmed or trimless finish. Additionally shown in the LS video are the LS-EX and LS-EXS Series, the exterior recessed and surface mount versions of the compact family of fixtures.
ELP's Video/Teleconference luminaires are described in the final video presentation. These widely-use fixtures have achieved the most domestic and international success as the leading product line for several years running. The VT Series, Video Conferencing 2 x 2 luminaires, are designed with an indirect optical system. Comfortable, vertical illumination is provided which enhances the conferees' faces for a clear, detailed broadcast image.
Luminaires covered in these product videos are some of the company's leading favorites. The informal presentations educate specifiers about products and lighting concepts. ELP's lighting prowess is confirmed by several U.S. Patents granted to ELP over the years for innovative fixture designs.
ELP designs high performance and specialty LED fixtures to meet today's architectural lighting challenges. Unobtrusive luminaires are paramount with reflector designs that optimize the light source to inconspicuously illuminate environments without glare while providing the appropriate quality and quantity of light for the task. This boutique lighting manufacturer will continue to utilize new technology for developing more effective and efficient luminaires.
Those interested in additional information on this release or other ELP products can call 1-626-579-0943 or visit our website at http://www.elplighting.com.