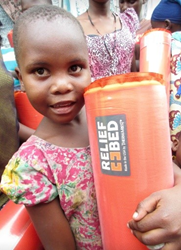 "Anita worked a small miracle figuring out a way to strategically use her luggage quota to get all the Relief Beds® on her flight to Africa", beamed Scott Smalling
Seattle, WA (PRWEB) January 21, 2016
Relief Bed International (RBI) in partnership with Volunteers for Sustainable Development, USA (VFSD) Executive Director, Anita Gray, provided 26 "life improving" beds for the children at an orphanage in Kampala, Uganda.
Gray's kids came to the orphanage under some varied and horrendous circumstances. They were abandoned by parents who abused drugs and alcohol or they were simply left in the area because their parents could no longer afford to feed them. These children slept on hard dirt floors covered by dirty blankets, fighting for space, air and comfort that wasn't to be found.
"Anita worked a small miracle figuring out a way to strategically use her luggage quota to get all the Relief Beds® on her flight to Africa", beamed Scott Smalling, Relief Bed International's Founder.
Once on the ground, Anita asked for assistance from local volunteers to help carry the beds packaged in a large artificial Christmas tree bag to the Slum of Bwaise located in Kampala. After an enthusiastic greeting from the children, Anita and the local directors handed out the Relief Beds®.
"Seeing the children's excitement when they initially received their Relief Beds®, but even more so when they first lay down to test out what was the first real bed they'd had in their lives, was one of the most profound joys I've ever experienced. We cannot thank Scott, SHEEX® and Relief Bed International's supporters, enough, for their generosity in providing this significant gift, especially at Christmas", exclaimed Gray.
During a meeting with Smalling, prior to the trip to Africa, Anita had mentioned raising the necessary funds to purchase custom metal bunk bed frames to perfectly accommodate the 26 Relief Beds® and was going to buy used sheets from a second-hand store to make "sleeping pouches" for the children to cover their bodies at night.
Upon hearing this, Smalling immediately said, "there's a better idea" and emailed one of the founders of SHEEX® who make bed sheets out of performance fabrics similar to the major sports brands and have a product in their line called a SLEEP•SAX which is exactly the design that Anita had described, but better.
Better, because this fabric is not only soft to the body and easily washed and air dried, but it wicks heat and moisture away from the body to help provide for a more comfortable night's sleep. Michelle Brooke-Marciniak, SHEEX® Co-Founder & Co CEO immediately emailed back, on a Saturday, her enthusiasm to support this project.
"Susan (fellow SHEEX Co-Founder/Co-CEO) and I have been fans of Relief Beds® mission ever since its inception. We greatly admire Scott's passion and acute vision to provide beds to those in need. SHEEX® is proud to partner with Relief Bed® by donating 26 of our innovative SLEEP•SAX to the orphanage to ensure an even more comfortable night sleep for the kids. After all, beds need sheets right? SHEEX® looks forward to future outreaches in partnership with Relief Bed®," Brooke-Marciniak said.
Key to Relief Bed International's success will be their "funding mechanism" for the Relief Beds®, since their model is to provide these beds free of charge to humanitarian organizations worldwide and homeless shelters across North America. To this end, RBI has created a first class cause marketing program utilizing a "buy one / give one" model.
With each mattress sold to a consumer in a predetermined category, by the retailer, a Relief Bed® will be donated to RBI's network of humanitarian organizations. Smalling further encourages his partners to work directly with these humanitarian organizations in their specific communities they serve to add a personal touch. Relief Bed International supports this program by listing retail partners on a dealer locator on their website, providing point of sale materials for partner stores, training and access to the significant assets from the projects they do across North America and around the world.
To help prove their model, RBI is currently running a pilot program with a 5 store chain in Oregon called Roby's Furniture. "Roby's Furniture is a wonderful multi-generation family business, which is like what I grew up in", said Smalling who is the third generation of a 70-year old mattress and foam fabricating company called IR Specialty Foam. "Roby's jumped in with both feet by shooting a television commercial promoting this partnership and outfitted all of their stores with sales materials, samples and training", stated Smalling.
"We were excited to partner with Scott and Relief Bed® to bring better sleep to less fortunate people in the communities we serve. We love the "one for one" concept and the idea of using our business to help others", said Dustin Herring Advertising Director for Roby's Furniture.
"We decided to promote Beautyrest® Mattresses at $999 and above. We were thrilled when we closed our books for December and found our year over year business in December, in this specific promotion category, was up 30%. Understanding we did not have a 30% lift across the brand we dug deeper. What we found was that we had significantly raised our average unit selling price (ticket) which we feel further strengthens the benefit of this type of promotion in an inconsistent market environment.
"We also had a customer call in, who was moved by our television commercial, and ordered 7 Relief Beds® over the phone. We were so encouraged by this gesture we matched his gift to make it a total of 14 Relief Beds®. Even though our first promotion will go through the end of January we plan on donating some of our cache of Relief Beds® to an organization called Helping Hands in Florence, Oregon during our annual Serve Day which we do every January. Each Roby's location chooses a community service project to participate in for the day. This year each store will be distributing Relief Beds® as part of the Serve Day project," concluded Herring.
About Relief Bed International. RBI has distributed over 500 beds (see website for details) in their 90 day infancy and has a goal to distribute 10,000 Relief Beds® in 2016 with the help from bedding retailers across North America along with RBI's other funding mechanisms. RBI also received its 501©3 non-profit status late last year which allows donors to make tax deductible gifts to its mission. For more information about Relief Bed International or to make a donation please go to their website at http://www.reliefbed.org or contact them at info(at)reliefbed(dot)com.
About SHEEX® | SHEEX, Inc., (SHEEX.com) is the world's first performance fabric bedding and sleepwear company with globally patented technology that provides optimal thermal conditions for deeper sleep powered by SLEEP•FIT Technology™. Inspired by the feel and breathability of athletic performance fabrics, Michelle Brooke-Marciniak and Susan Walvius, the Co-Founders and Co-CEOs of SHEEX, shook up the bedding world in 2007 by inventing a whole new "Performance Bedding" category in home textiles through breathable, stretchable, moisture-wicking technical fabrics. Michelle and Susan were collegiate basketball coaches at the University of South Carolina before inventing SHEEX® in 2007. Both were accomplished collegiate student-athletes: Walvius was a star player at Virginia Tech and later was the 2002 SEC Coach of the Year at the University of South Carolina. Marciniak starred in the WNBA and for USA Basketball and was a collegiate All-America when she played for legendary coach Pat Summitt at the University of Tennessee, where she led the Lady Vols to two Final Fours and the1996 National Championship while earning Final Four MVP honors. Since their initial invention, SHEEX® has grown from performance bed sheets to a full line of "top of the bed," performance cotton, fleece and more.
More information is available at http://www.SHEEX.com