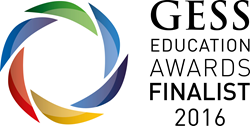 I'm delighted that EDUonGo was shortlisted for this award.
Bellevue, WA (PRWEB) January 21, 2016
EDUonGo has been selected as a Start-Up Company of the Year finalist for the GESS Education Awards 2016. The awards recognize dedicated individuals and companies that supply education establishments with quality products, resources and services.
In the last two years EDUonGo has helped hundreds of companies and instructors launch their own online academies. With customers from diverse disciplines—K-12, higher education, consulting and professional training—EDUonGo is a versatile tool that meets the needs of a unique range of customers.
In addition to being a GESS awards finalist, EDUonGo has received other recognitions such as CenturyLink's TechFlash Cup Innovator Award, EdSurge's Top S'Cool Tools, and Sloan-C's Launch Pad Panel.
"I'm delighted that EDUonGo was shortlisted for this award," says Ridvan Aliu, CEO of EDUonGo. "My team and I will be present at the at the awards event in Dubai. Hope to see you there!"
Winners will be announced at a Gala Awards dinner in Dubai on March 2, 2016. Click here to learn more about how EDUonGo can work with you to launch your online academy.
About EDUonGo
EDUonGo enables anyone to share knowledge through an online learning environment. Schools, institutions and individuals partner with EDUonGo to host online academies through its cloud-based platform. In addition to providing features found in leading learning management systems, EDUonGo gives users the flexibility to customize the system and integrate third party tools. For more information, visit http://www.EDUonGo.com.