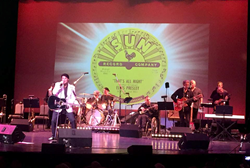 Only Tribute Artist Hired by Elvis Presley Enterprises to perform at Graceland's Heartbreak Hotel"
Fort Myers Florida (PRWEB) January 20, 2016
Chris MacDonald, the only Elvis tribute artist hired by Elvis Presley Enterprises to perform at Graceland's Heartbreak Hotel, returns to the Barbara B Mann Performing Arts Hall with Memories of Elvis and special guest star original Elvis Drummer D.J. Fontana "The Beat Behind The King". MacDonald and Fontana will bring back the music and memories of the All-American Legend in a truly dynamic multimedia performance complete with costumes, backup singers, dancers and a high-energy 8-piece concert band. Rock-n-Roll Hall of Famer, D.J Fontana, played the drums for Elvis's electrifying early television performances including the infamous waist-up only filming of the Ed Sullivan show - an attempt at censoring the raw energy and sexuality of this rising star of the new music genre called "Rock-N-Roll." D.J. Fontana is the drummer on all of the King's legendary hits of the 1950's and 1960's including "Hound Dog," "Jailhouse Rock," "Heartbreak Hotel," and many more. With his national touring production, Chris MacDonald draws his audience in with the look, sounds, and nuances that made Elvis the King. An accomplished and experienced entertainer, Chris has performed in Vegas, Branson and with the famous Legends in Concert stage productions. He has also headlined with Elvis' own original back up group, the Jordanaires and D.J Fontana at the famous Hard Rock Live Concert Arena. His full production show has consistently sold out venues throughout the country.
Chris MacDonald's Memories of Elvis is a dynamic full production tribute that shares the incredible story of "The shy humble country boy who became the King of Rock--n-Roll" through highlights of several stages of his iconic career: the early years, the movies, the black leather 1968 comeback, the white fringe 1970 Vegas concerts. Along with his live musical performances of the classic Elvis hits and video clips bringing you into the different eras, Chris and D.J. Fontana share back stories of the songs and legendary live performances behind the man and his music.
Chris MacDonald performances stand on their own, the show is not a parody or an overdone impersonation. There is a true understanding of what Elvis did best; connecting with his music and the heart of his audience .It is a natural, heartfelt tribute to an American Icon and his music.
Date: Thursday January 21,2016 7:30pm
Venue: Barbara B Mann Performing Arts Hall
13350 FSW Parkway
Fort Myers, FL 33919
Box office : 239-481-4849
website: http://www.bbmannpah.com/performance.php?id=753