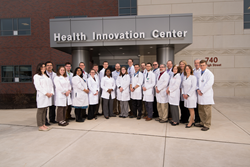 Our mission is to connect the generosity of a caring community with opportunities to improve the lives of others through better health.
Williamsport, PA (PRWEB) January 22, 2016
In a period marked by major shifts in healthcare, Susquehanna Health (SH) Foundation (the philanthropic arm of Susquehanna Health) is surmounting obstacles through a wealth of community support that is helping to provide state-of-the-art facilities and expand program services in northcentral Pennsylvania. Recently concluding a successful capital campaign, Continuing the Innovation, the Foundation surpassed its goal by raising $7.7 million.
This financial support has been reinvested in the construction of a four-story Health Innovation Center on the Williamsport Regional Medical Center campus, the enhancement of the emergency department at Muncy Valley Hospital and the development of a centralized location for bone and joint care at the Divine Providence Hospital campus. As a nonprofit health system, SH counts on financial support from the local community to bridge the gap between the actual cost to provide services and the amount received in reimbursements. According to Vice President of Development Sherry Watts, to have achieved its recent campaign goal on its own, the health system would have needed $350 million in services rendered. In other words, each donation of $1,000 translates to about $43,500 in services.
"Major gifts to the Foundation start at $10,000, but every dollar has a huge impact," Watts explains. "We work toward matching the interest of our donors to the needs of the organization and providing outcomes to help them understand the difference they are making." In 2012, the Foundation raised $15.7 million with the help of 4,346 donors in support of the health system's largest renovation and expansion project to date at Williamsport Regional Medical Center. The Project 2012 Capital Campaign gained momentum with help from several community leaders, according to Watts. More than 80 volunteers shared their time and stories throughout the community. The Foundation is led by a board of volunteers who are passionate about the organization and its relationship to the community.
Over the last 10 years, Watts says the Foundation's philanthropic philosophy focuses more on its investment in people and relationships. "Our mission is to connect the generosity of a caring community with opportunities to improve the lives of others through better health," she explains. One example of services donors help provide is SH Cancer Center's survivorship program, which offers support and guidance to cancer patients as they transition to non-patient status. The Gatehouse inpatient hospice unit also benefits from charitable giving.
Many of the 4,700 donors are employees of the organization. The employee participation rate is 50 percent, according to Watts, which is greater than the national average for employee giving. SH employees participate in Foundation programs including the Tree of Life Club and many also enroll in the Hour Club by donating one hour of pay per pay period. "Participation by our employees is strong evidence that they believe in our organization and what we are accomplishing and that they have faith in our leadership and strategic plan," Watts says.
As part of its philanthropic efforts, SH Foundation seeks federal, state and local grants to help support services and programs. In addition to grant funding, the Foundation collaborates with the health system to develop partnerships throughout the community to improve health and wellness. "Partnerships are an important part of who we are as an organization because they benefit the community," says Watts.
The Foundation's goal for 2016 is to focus on expressing gratitude to donors for their dedication to the recent campaign and reporting on the impact of those gifts. "Our community is extremely generous and anyone who supported our campaigns should feel a sense of pride when they enter any of our facilities and see firsthand the impact their contributions are making," says Watts.
About Susquehanna Health
Susquehanna Health is a four-hospital integrated health system including Divine Providence Hospital, Muncy Valley Hospital, Soldiers + Sailors Memorial Hospital and Williamsport Regional Medical Center located in northcentral Pennsylvania. Serving patients from an 11-county region, Susquehanna Health is a healthcare leader and has been recognized at the national and state levels for quality of care. Susquehanna Health offers a wide array of services that include cancer care, heart and vascular care/heart surgery, neurosciences including neurosurgery, orthopedics, urology, OB/GYN, gastrointestinal services, behavioral health, physical rehabilitation, home care, long term care, assisted living and paramedic/ambulance services.