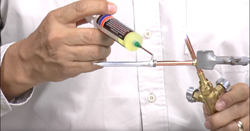 Quality Tools That Go To Work With You®
Fort Lauderdale, FL (PRWEB) January 20, 2016
HVAC technicians many times have difficulty joining dissimilar metals like aluminum to copper, aluminum to brass or copper to brass. This comes about due to the low melting property of aluminum itself, 1,218 ºF and the application temperature of the most common and economical aluminum brazing alloys which can have application temperatures of close to 1,000 ºF. This leaves very little margin for error when heating the aluminum metal, and simultaneously, trying to achieve the appropriate application temperature of the brazing alloy.
Enter Uniweld's UNI-4300 Soft Solder Kit, Uniweld Part# P4KD9S, to simplify the process, permitting HVAC technicians to join dissimilar metals with low heat, minimizing the possibility of melting the base metal, such as aluminum. The UNI-4300 Soft Solder Kit, can be used to join aluminum, as well as dissimilar metals like aluminum to copper, aluminum to brass or copper to brass. The low application temperature of UNI-4300 of 500°F, provides ample margin for working with aluminum metals, which have a melting point of 1,218 ºF. UNI-4300 has the added value that it provides a very high tensile strength of 20,000 pounds. The kit comes with a 10ft coil of soft solder, a 2oz bottle of flux, and a convenient flux applicator with a metal tip. This flux applicator makes it much easier to reach tight spots and the metal tip allows you to apply flux to preheated tubing without melting the tip.
The UNI-4300 instructional video demonstrates one of the methods used to join an aluminum tube to a copper tube. Once the 2 metals are joined together using UNI-4300, the aluminum/copper tube assembly is pressure tested at 800 PSI. The UNI-4300 instructional video is available in both English and Spanish.
Uniweld Products, Inc., is a global leader in the manufacturing of tools for the HVAC/R industry as well as oxy/fuel welding and cutting equipment and accessories that has manufactured quality welding and cutting equipment at its factory located in Fort Lauderdale, Florida U.S.A. since 1949.