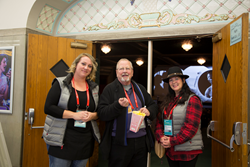 Being a Salt Lake City Sundance venue is providing greater access for more people to this international cultural event.
Salt Lake City, Utah (PRWEB) January 20, 2016
The 2016 Sundance Film Festival will screen 18 films at Salt Lake Community College's Grand Theatre, Jan. 21-31, during the opening and closing weekends. Locals now have the option to purchase a Grand Theatre Pass allowing access to all 18 films at that venue.
The opening night film Jan. 22 at The Grand is the documentary by Rachel Grady and Heidi Ewing called Norman Lear: Just Another Version of You. The film is the definitve chronicle of the 93-year-old Lear's life, work and achievements, but is also billed as "more than an arm's length, past-tense biopic."
Other films screening at The Grand include:

Other People – David, a struggling comedy writer fresh off from breaking up with his boyfriend, moves from New York City to Sacramento to help his sick mother. Starring: Molly Shannon and Jesse Plemons.
Maggie's Plan – Academic advisor Maggie is determined to have a baby, but she can't seem to make any relationship last long enough to reach the precipice of familial bliss. Starring: Greta Gerwig and Ethan Hawke.
Swiss Army Man – Alone on a tiny deserted island, Hank has given up all hope of ever making it home again. But one day everything changes when a dead body washes ashore, and he soon realizes it may be his last opportunity to escape certain death. Starring: Paul Dano and Daniel Radcliffe.
Nothing Left Unsaid: Gloria Vanderbilt & Anderson Cooper – Privilege, love, loss, and survival are all deftly examined in Nothing Left Unsaid, which turns a lens on the expansive life of Gloria Vanderbilt. This is a documentary.
The $300 Grand Theatre Pass gives moviegoers access to all screenings at the Grand Theatre at Salt Lake Community College on Fridays, Saturdays and Sundays during the festival. The pass also offers access to all of the non-theatre festival venues. For more information on how to purchase a Grand Theatre Pass, visit http://www.sundance.org.
"Being a Salt Lake City Sundance venue is providing greater access for more people to this international cultural event," said Richard Scott, dean of SLCC's School of Arts, Communication and Media. "It certainly is in keeping with the role of a community college and we are proud to assist in bringing it to the Salt Lake Valley. The response from last year was overwhelmingly positive and we hope to provide space for this event long into the future."
"We're really looking forward to opening our doors to the Sundance Film Festival again this year," said Seth Miller, Interim Director for The Grand Theatre. "It adds great energy and exposure to The Grand, a theatre that has it all from big stage musicals and plays, to concerts and stand up comics, and the Sundance Film Festival."
The Grand Theatre is an 1,100-seat venue located at Salt Lake Community College's historic South City Campus, home of the innovative and state-of-the-industry Center for Arts and Media at 1575 South State Street in Salt Lake City. The Grand dates back to the 1930s when it was part of South High School, which SLCC purchased in 1989, a year after the school closed. The theatre began offering productions that year and has since with great care and expense retained its Depression-era charm and attraction while also incorporating the latest technology. Every season the Grand is host to award-winning theatre and dance productions and concerts that attract arts enthusiasts from all along the Wasatch Front. Students and faculty in the arts at SLCC's South City Campus now enjoy and, as a result, excel from having access to the Grand's nostalgic look and feel and the Center for Arts and Media all in one place.