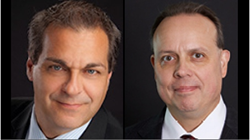 These promotions will ensure the effective execution of our company's strategic plan.
Fargo, ND (PRWEB) January 21, 2016
CSM, a leading clinical trial supply company, today announced that Brian Swites was promoted to Vice President of Operations and Bob Albanese was named Senior Vice President of Strategic Development.
Swites joined the CSM team in January 2015. He was the former Director of GMP Operations at Teva Pharmaceuticals. Swites brings over 30 years of experience in the biopharmaceutical industry to the CSM leadership team, specializing in global clinical supply chain management. As Vice President of Operations, Swites will focus on leading and managing all operational aspects of CSM's three global locations.
Albanese joined CSM in 2011 and held various leadership positions within the organization, most recently as Vice President of Operations. In his new role, Albanese will work to develop new services, form new relationships, and strengthen the partnerships that have provided record-breaking growth for CSM over the past few years. Albanese has over 30 years of experience in building and managing business operations within a variety of industries.
Both Albanese and Swites will work collectively to maintain and support the company's strategic vision and continue to expand CSM's service offerings in the United States and internationally.
"These promotions will ensure the effective execution of our company's strategic plan," said Gerald Finken, CSM's President and CEO. "As we continue to grow, we must also ensure we continue to deliver on our promise of great customer service and quality. Mr. Albanese and Mr. Swites have the skills and expertise needed to meet this challenge and to further CSM's commitment to innovation, to reducing costs and timelines, and to improving the quality of the clinical supplies we prepare for our client's patients."
About CSM
Since 1997, CSM has been providing innovative solutions to meet the complex clinical supply challenges pharmaceutical and biotechnology companies face. The company manages the clinical supply chain for hundreds of satisfied clients worldwide, offering both traditional and innovative services that keep clinical trials on time and on budget.
CSM offers a full suite of cGMP-compliant services, continually delivering quality supplies to clinical sites and patients around the world. The company supports clinical trials with services such as packaging & labeling, global storage & distribution, controlled drug services, clinical supplies consulting, and returns, reconciliation & destruction. In 2001, CSM introduced the On-Demand platform, a new way of packaging and labeling clinical trial materials (CTM) for a specific subject or block subjects, upon request. For more information, visit csmondemand.com.