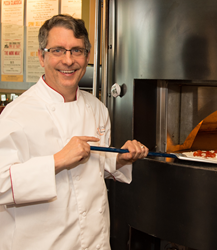 Pizza works in both a bull and a bear marketplace. It can be simple and traditional, or prepared with an innovative twist.
Newport Beach, Calif. (PRWEB) January 26, 2016
Synergy Restaurant Consultants has joined forces with renowned pizza expert Tim Green, solidifying the company's position as a leading player in the evolution of the fast-growing pizza segment, according to founder Dean Small. "Tim is a rock star in the pizza world, and now that he has joined our team there is nothing we can't do to help clients realize success with pizza," says Small. "Tim brings an impeccable reputation and tremendous experience developing, designing and cooking in cutting-edge pizza operations, and he is an ideal fit with Synergy's culinary-centric culture."
A graduate of Johnson & Wales and corporate chef of the famed Wood Stone Corp. for 15 years, Green began his career in the hotel and resort industry before following his passion into pizza. Since then, he has trained more than 1,000 pizzaiolas and worked with such celebrity chefs as Todd English, Tom Colicchio and Emeril Lagasse. Green has also helped launch many high-profile pizza concepts based on customized, display cooking platforms, including such notable brands as Blaze, Pieology, and PizzaRev.
"Although it started as a peasant food, pizza has always been a dynamic phenomenon in North America," says Green. "Pizza works in both a bull and a bear marketplace. It can be simple and traditional, or prepared with an innovative twist. Today the fastest growing pizza segment is the fast casual, 'Build Your Own' custom pie market. But there is also a huge opportunity for chef-driven, artisanal pizza—the style of pizza being translated by some of the finest culinary talents of our times, and evolving into the high fashion of pizza.
"I have chosen to work with the amazing Synergy team because I wanted the support of a worldwide organization with the ability to offer the industry a complete source for pizza knowledge," continues Green. "In addition, stone hearth ovens have amazing cooking capabilities beyond great pizza. Together we can offer everything from simple training to complex brand development for any operation."
About Synergy
As a premier restaurant consulting firm, Synergy Restaurant Consultants is a team of restaurant management professionals that develops innovative ideas and creates sustainable brands to drive top-line sales. Our restaurant consulting team specializes in both launching new restaurant startups and jump-starting struggling or financially distressed brands. Since 1988, Synergy has been a strategic resource to more than 250 national and independent restaurant companies within every dining segment, from Applebee's to Z'Tejas. The company is based in Newport Beach, Calif.