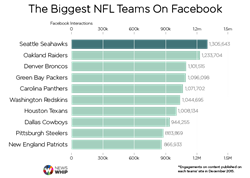 We can see that the engagement from teams follows their performance. The teams in the playoffs had the highest total of Facebook likes, shares, and comments. - Gabriele Boland, Analyst - NewsWhip
New York, New York (PRWEB) January 21, 2016
A new NewsWhip report finds that Seahawks dominated total Facebook interactions in December, with 1.3 million combined likes, shares, and comments.
After analyzing NFL teams' engagement on content from the team domains, incredible Facebook engagement was seen from the Seattle Seahawks, with the Oakland Raiders and Denver Broncos also ranking. Top insights include:

Seahawks were the most-liked NFL team in December, with over 1.2 million likes, and over 100,000 combined shares and comments
Redskins had the most Facebook comments, over 88,000, followed by the Cowboys with 86,000 comments
Teams that published more articles tended to see more engagement on Facebook, with an average of 512 articles published in December by the top 10
All of the NFL playoff teams made it into the top 20, while the bottom teams were those with lackluster seasons
Read the full report and charts on the NewsWhip blog, to discover what these Facebook trends indicate for sports media and NFL teams social marketers.
About NewsWhip:
NewsWhip is a social signals platform, powering a suite of analytics products, used by journalists, editors, marketers and PR professionals.
NewsWhip's best-known tool, Spike, is a dashboard for analyzing real-time social velocity of content. Spike predicts 79% of future viral stories, and is used by clients such as: BBC, BuzzFeed, Edelman, FleishmanHillard, Huffington Post, Intel, Lenovo, Mastercard, MTV and Yahoo!