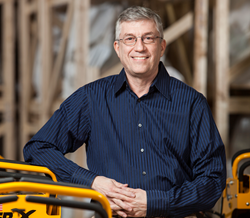 Frederick, MD (PRWEB) January 22, 2016
Bill Wright, CEO of Wright Manufacturing, has been selected to receive a 2016 Maryland International Business Leadership Award. The award is sponsored by the World Trade Center Institute, a regional business network. Wright will receive his award March 9 at a ceremony in Baltimore.
Wright invented the stand-on lawn mower, and began manufacturing the first Stander® models in 1997. Today, the Frederick, Maryland company manufactures a complete line of commercial mowers, including zero-turns, walk-behinds and accessories, as well as stand-ons.
Currently, Wright Manufacturing competes in the stand-on market with 14 other manufacturers. According to a recent report in a national publication, Wright is the industry leader in this market segment.
Wright Manufacturing is headquartered at 4600X Wedgewood Blvd, Frederick, MD 21703. For more information about the company and its products, visit http://www.wrightmfg.com or phone 301.360.9810.