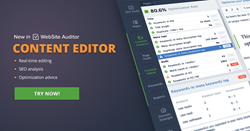 (PRWEB) January 20, 2016
Link-Assistant.Com, the mastermind behind the full-cycle software for professional SEO campaigns, SEO PowerSuite, announced today the addition of real-time content editing and optimization to Website Auditor.
WebSite Auditor is one of the four tools in SEO PowerSuite toolkit. To date, it was used for on page SEO and technical auditing only. With the today's powerful update, WebSite Auditor also lets users create perfectly-optimized, upload-ready pages, thus bringing SEO analytics, content management and on-page optimization to one convenient workspace.
WebSite Auditor (as well as the other tools by Link-Assistant.Com) is available in three editions: Free, Professional and Enterprise. Up to 33% of pages of one's website can be optimized with WebSite Auditor Free version, which can be downloaded at the official website.
The new content optimization module in WebSite Auditor includes the following features:
1. In-app content editing
2. As-you-type advice
3. Meta-tags editor
4. Google snippet preview
5. In-app HTML editor
What is more, with the new functionality, users can edit sites and pages built on any platform and in any language. Besides, the optimization is performed right in the site's layout, so that the user can instantly see how the page looks to their site visitors.
To get a better understanding of content optimization with WebSite Auditor, users may watch a short explanatory video at the official website.
Users are invited to follow Link-Assistant.Com on Facebook fb.me/LinkAssistant, Twitter @LinkAssistant or Google Plus gplus.to/LinkAssistant.
About Link-Assistant.Com
Link-Assistant.Com is the maker of SEO PowerSuite - the all-in-one SEO software for search marketers, digital agencies and bloggers. SEO PowerSuite is a toolset made up of 4 individual tools – Rank Tracker, WebSite Auditor, SEO SpyGlass and LinkAssistant – delivering best results when combined. Link-Assistant.Com is a small and dedicated company that competes on software excellence and customer service. The company embraces the changing role of SEO in today's digital marketing world and believes that brands will keep relying on accurate SEO data to succeed online.