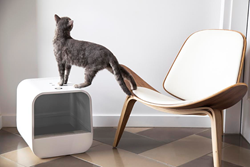 The Kitty Litter Box With Purrr-Puss
Portland, OR (PRWEB) January 21, 2016
Native Chicagoan and designer Courtney Karsted has created a cat litter box that focuses equally on form and function. A Kickstarter campaign has launched featuring her modern design litter box called the Grand PooBox. View the campaign here.
How it all started:
"The Grand PooBox started as a simple concept. As a cat owner and lover, and an interior designer by trade, I grappled with the daily litter box dilemma: How do I contain the litter mess strewn all over my beautiful, dark, hardwood floors? Darn cat! I manually filled my kitty litter box with 50% less litter, and shoveled the entire amount to the rear leaving the front half litter-free. That simple maneuver reduced the amount of litter scattered on my floors. Light bulb overhead! What about an internal grated ramp from the rear litter receptacle to the upper lip of the box. BAM! The Grand PooBox was born." — Courtney Karsted
About the Grand PooBox:
The Grand PooBox is about litter containment with the addition of an internal grated ramp. The ramp is simple, it helps reduce the amount of litter strewn on the outside of the box as the cat walks up and out.
Aside from the ramp – the Grand PooBox is about changing perception. 50% less litter is required to fill the rear receptacle of the Grand PooBox. That's 50% less litter that will not go to waste.
The Grand PooBox is about modern design. After years of designing and researching only the most durable materials, the Grand PooBox is one litter box no one will want to hide.
Pricing and Availability:
The Grand PooBox will retail for $125 per box. Available Fall 2016.
To order now on Kickstarter: https://www.kickstarter.com/projects/1825968149/grand-poobox-the-kitty-litter-box-with-purrr-puss