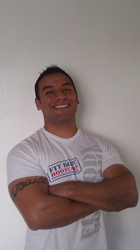 This is a passion of mine and I took my passion and turned it into a dream
Albuquerque, New Mexico (PRWEB) January 25, 2016
Javier Rodriguez, owner of Academy Hills and Westside Fit Body Boot Camps, will be hosting an event for the opening of the Academy Hills location on March 5th, 2016 starting 10am at 6501 Wyoming Blvd NE Building J, Albuquerque, NM, 87109. There will be complimentary boot camp sessions and form classes at the event.
Fit Body Boot Camp is the world's fastest growing and most popular indoor fitness boot camp brand, with hundreds of locations worldwide. The boot camp's unique brand of fitness combines individualized personal training from licensed professionals, clinically proven Afterburn workouts, and nutritional guidance to guarantee weight loss results.
Rodriguez looks to change people's lives for the better with his boot camps.
"I have been an athlete my entire life," said Javier. "As an adult, I joined the U.S. Navy and served my country for 6 years. During my deployments, I often found myself training fellow sailors. This is a passion of mine and I took my passion and turned it into a dream. When I found out about Fit Body Boot Camp after leaving the Navy, I instantly knew that I could change lives with it."
Rodriguez has been an athlete ever since he was young and found the strength to overcome bullying with sports. He earned his professional kickboxing titles at 14 and looks to give others a fighting chance at life. He decided to open a second location to expand his outreach in the fight against the obesity epidemic Javier and his team fight against every day.
Javier and his wife have been in the fitness business for about four years now, helping people lose weight. In a recent challenge, their clients lost a collective 1,000 pounds and the couple looks to bring these numbers to their new location, as well. The couple is also active in their community with frequent work with the Haven House, a domestic abuse shelter, and donations to Paws and Stripes, a foundation that trains service dogs for veterans.
Being a disabled veteran himself, Javier looks to continue his work with the Wounded Warrior Project. Currently, there are 10 active boot camp members from the foundation. Wounded Warrior supports veterans who have incurred physical and mental injuries.
Several boot camp sessions will be held at the event along with nutrition coaching and body composition testing. A form camp where exercises will be demonstrated, such as squats, lunges, kettlebell swings and burpees, will be provided for anyone that is not familiar with exercise terms and forms.
About Academy Hills Fit Body Boot Camp:
Academy Hills Fit Body Boot Camp is a part of the Fit Body Boot Camp family of indoor fitness boot camps, whose global goal is to engage 20% of the world's population in a healthy and fit lifestyle by the year 2020. Academy Hills Fit Body Boot Camp is owned and operated by Javier Rodriguez. Rodriguez is committed to helping members of the Academy Hills community set and accomplish their own health and fitness goals.
For more information about Academy Hills Fit Body Boot Camp, please call: (505) 234-6540
Visit their website at: http://www.fitbodybootcamp.com/academyhillsfitnessbootcamp/
Or their Facebook page at: https://www.facebook.com/Academy-Hills-Fit-Body-Boot-Camp-1678689969014704/