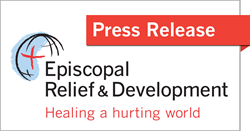 New York, NY (PRWEB) January 20, 2016
Episcopal Relief & Development is working with local organizations as well as Anglican Communion and ecumenical agencies to provide assistance in Syria and in Europe to people fleeing ongoing violence.
Within Syria, the organization continues to aid the work of the Fellowship of Middle East Evangelical Churches (FMEEC) to provide rent subsidies and food for those displaced from their homes but remaining within the country's borders. In Europe, support of Islamic Relief's efforts assists those transiting through Lesvos, Greece, on their way to the mainland, while partnerships with the Church of England's Diocese of Europe and The Episcopal Church's Convocation of Episcopal Churches in Europe help host and resettle people in their new home countries. Churches are actively responding at a local level in Rome, Munich, Paris and Brussels, among other cities.
"The way in which our 21 congregations have responded makes me very proud," said The Rt. Rev. Pierre Whalon, Bishop of the Convocation of Episcopal Churches in Europe. "While Episcopal churches in Europe have had significant refugee ministries since the Second World War, our people have unanimously increased their present work, for instance at the Joel Nafuma Center at St. Paul's Within the Walls, Rome. New efforts are also underway as the current crisis creates new needs and therefore new opportunities for ministry, like at the Cathedral in Paris and in the terrible camps at Calais. Over the years, we have become trusted partners with governments and relief agencies in the six countries where we have churches. And ever since the beginning of this new inflow of people, Episcopal Relief & Development and Episcopal Migration Ministries have worked closely with us."
At the Joel Nafuma Refugee Center (JNRC), housed at St. Paul's Within the Walls Episcopal Church in Rome, Volunteer Coordinator Daniela Morales reports that Episcopal Relief & Development support has enabled the center to improve the nutritional value of their daily breakfast. With affirmation from two World Food Program nutritionists and a survey among the center's guests, hard-boiled eggs and fruit or rice and beans now supplement the usual tea and croissants several times per week. Noting that JNRC guests often face challenges in finding employment, Morales says that the center aims to employ its guests whenever possible – for example, shopping for and preparing breakfasts – and that it is currently strengthening its vocational training and job placement program to aid success in this area. The JNRC also aims to extend its hours past 2:00 p.m. so that guests have a safe place to stay until their lodging opens at 8:00 p.m., and to expand programming to offer language instruction, psychotherapy, art and music therapy, sports and other recreational activities.
The Asylum Seeker Center in Munich, founded 30 years ago by the Episcopal Church of the Ascension with Roman Catholic and Lutheran partners, is providing services to displaced people at McGraw Camp, a converted former army barracks within walking distance of Ascension. The Rev. Steven Smith, Ascension's rector, reports that the camp houses 300 people at a time, with three or four people to a room in trailer homes, while they wait up to eight weeks for paperwork approvals and transition to permanent housing. Another organization, the evangelical Innere Mission, has supported meals and cultural and language assistance at the camp. With Episcopal Relief & Development support, Ascension aims to expand its current hospitality ministry by adding a second day of fellowship activities, launching a 'clothing closet' and building a bicycle shed with subsidized rentals.
The American Cathedral of the Holy Trinity in Paris has been a major supporter of services in Le Jongle ('The Jungle'), a camp of up to 6,000 displaced people outside the northern French city of Calais. The Cathedral is supporting a mobile medical unit to deliver urgently needed health care in the camp, and during the Christmas season, Convocation Bishop Whalon and Cathedral Dean Lucinda Laird brought 3,000 shoeboxes of toys, school supplies, winter clothes and personal care items from the Cathedral's longstanding Love in a Box program. In Paris, Cathedral is working with the Association of Welfare for Eastern Minorities (AEMO) to find host families, assist with paperwork and provide language services and other support for people seeking resettlement in France.
Elsewhere in Europe, church members from All Saints Episcopal Church in Waterloo, just south of Brussels, are assisting Belgian government authorities with housekeeping, language assistance and other services in a tent city that houses travelers arriving in the capital to complete their fast-track registration process. Notably, All Saints runs a 'fruit ministry' that provides hundreds of pieces of fresh fruit each day. Churches in Baden and Frankfurt, Germany, are also forming linkages with welcome centers in their areas to offer hospitality, services and cultural and language mediation.
"I am extremely impressed by the instinctive, organic initiatives developing throughout Europe that engage locals in joyfully welcoming travelers into their home cultures," said Nagulan Nesiah, Episcopal Relief & Development's Senior Program Officer for Disaster Response and Risk Reduction. "One of the biggest stressors for people is the sheer feeling of displacement and not belonging, and the hospitality and cultural ministries of Episcopalians in Europe – whether it's helping people learn the language or just playing games or sharing a meal together – provides a foothold that will give them the energy and hope to press on with what can be a very long and exhausting process."
Please continue to pray for all those fleeing violence and unrest. To support Episcopal Relief & Development's response, please donate to the Syria Crisis Response Fund.
Matt Davies of Episcopal News Service created a series of videos exploring the ministries of churches in Europe responding to the needs of displaced people.

For over 75 years, Episcopal Relief & Development has served as a compassionate response to human suffering in the world. The agency works with more than 3 million people in nearly 40 countries worldwide to overcome poverty, hunger and disease through multi-sector programs, using the Sustainable Development Goals (SDGs) as a framework. An independent 501(c)(3) organization, it works closely with Anglican Communion and ecumenical partners to help communities create long-term development strategies and rebuild after disasters.