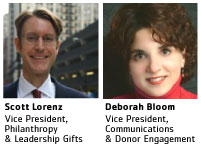 Evanston, IL (PRWEB) January 21, 2016
For 130 years, McGaw YMCA has strengthened the foundations of community by encouraging the development of spirit, mind, and body for all. Now, as the organization looks toward another century of meeting community needs, it is pleased to welcome two new leaders who will advance the organization's mission.
Scott Lorenz will become the Vice President, Philanthropy & Leadership Gifts and will concentrate on major and planned giving, as well as developing relationships with individuals, foundations, and government entities. Deborah Bloom will be the Vice President, Communications & Donor Engagement and will focus on annual giving, grant writing, and the overall communications strategy.
"McGaw YMCA has long been a leader in the education and development of children and youth in the Evanston community," said McGaw YMCA President and CEO Mark A. Dennis, Jr. "With their vast expertise, Scott and Deborah will heighten the community's awareness of our programs and services, and stimulate even more support for our crucial work."
Scott Lorenz brings 25 years of experience in the not for profit, private, and public sectors. Most recently Scott served as Senior Vice President and Chief Advancement Officer for the YMCA of Metro Chicago, where he supervised a fundraising team responsible for raising $6 million annually. Previously, he served in executive leadership roles at Boys and Girls Clubs of Chicago, Chicago Cares, and Lutheran School of Theology at Chicago.
Scott spent the first eleven years of his professional career with JIS Options Corporation, a local trading company, trading primarily in equities and related derivatives. Here, he regularly generated and identified profitable trading strategies, and frequently interacted with high net-worth individuals. Through is work, Scott has secured the support from and the trust of some of Chicago's most prominent business leaders and philanthropists to significantly increase the impact of the organizations he served. Scott's role with McGaw YMCA will be to focus on establishing and building long term relationships as they relate to building a culture of philanthropy.
Deborah Bloom brings 20 years of experience in the nonprofit and association sectors, as well as early career experience as a strategic communications agency account executive. Since 2008, Deborah has been employed at The Hadley School for the Blind, most recently as Vice President, Development and Communications where she managed a combined team of communications and development professionals.
Before joining Hadley School, Deborah held leadership positions at American Heart Association and American Library Association, where she managed the execution of a new brand through national partnerships. Deborah's focus will be on McGaw YMCA's communications strategy and implementation priorities particularly as they relate to building membership and donor engagement in the work of the Y.
Both Lorenz and Bloom with be part of McGaw YMCA's new Advancement team, which will include philanthropy and leadership gifts, as well as communications and donor engagement.
The McGaw YMCA (http://www.mcgawymca.org) is a cause-driven, charitable organization that seeks to strengthen community with a focus on youth development, healthy living, and social responsibility. Our programs for children and teens support them academically, emotionally, and socially. Through these programs, the McGaw YMCA has positively impacted the Evanston community for nearly 130 years.