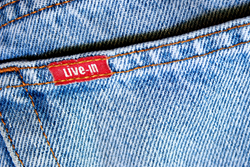 Hi-Tech Printing and Labeling explains that, in addition to environmentally friendly manufacturing processes, labels can be used to advertise many other positive attributes of a piece of clothing
Los Angeles, CA (PRWEB) January 27, 2016
According to a recent article published January 18 on The Trend Spotter, powerhouse fashion labels are evolving, and older brands may fade as new ones emerge. Los Angeles-based fabric label manufacturer Hi-Tech Printing & Labeling Inc. explains that the fashion industry is constantly innovating and adapting to change, and as a result, it's become the multi-billion dollar industry it is today. One trend expected to swell in popularity is the prevalence of eco-friendly fabrics in clothing, and now, as the label manufacturer explains, designers want to advertise the responsibly sourced materials that comprise their collections. As labels were made necessary by law when manufacturers would weave in cost-saving adulterants, they can now also be used to showcase the use of eco-friendly, organic fabrics. The firm further notes that, while the switch to sustainable and organic materials is typically primarily motivated by ethical responsibility rather than the desire to occupy a new consumer base, customers often feel better about items that they know are ethically sourced.
While many people are aware of the growing trend of shoppers towards buying organic food, some businesses aren't aware that there is also a growing demand for organic, eco-friendly apparel. Businesses are therefore able to position their brand to capture that particular niche market by indicating to customers that their company uses organic fabric in their products or labeling. Hi-Tech Printing and Labeling Inc. can even produce a custom organic label that allows forward-thinking manufacturers to make clear their environmental responsibility throughout the entire manufacturing process.
Hi-Tech Printing and Labeling explains that, in addition to environmentally friendly manufacturing processes, labels can be used to advertise many other positive attributes of a piece of clothing, such as whether it is made in America. The company adds that, while any label-maker can generate a label that simply displays information, Hi-Tech Printing & Labeling is able to make custom, eye catching designs that can truly add value to the brand's image and identity. They add that, while labels are not often discussed among the general public, they are a truly important part of marketing clothing and other products.
The firm notes that their eager and professional staff is ready to provide for the needs of forward-thinking garment manufacturers, small or large. For additional information about the products and fabric label printing services available at Hi-Tech Printing & Labeling or to request a brochure or quote, prospective customers may call the label maker and manufacturer today at (213) 746-7772 or visit them online at http://www.FabricLabels.com.