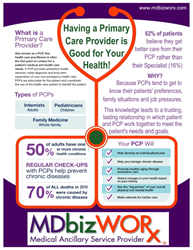 Changes in American healthcare are impacting patients and their doctors. Challenged by unprecedented uncertainty in treatment options and physician practice survival, MDbizWORX's ancillary services provide solutions for both.
West Palm Beach, FL (PRWEB) January 22, 2016
MDbizWORX, a national provider of premier ancillary medical services now offers independent Primary Care Physicians (PCPs) new ways to diagnose and treat many of their patient's serious medical conditions "in-office" rather than referring them out to a specialist. This means:

Better, more efficient, affordable and integrated patient care
Improved practice financial stability
Enhanced development of Patient/Doctor relationship ("whole person care")
As part of a customized program for patients, MDbizWORX has sought the best ancillary services available to address the most chronic health issues facing Americans today through their "Best Health: Top Five Ancillary Services for 2016."
Sixty two percent of patients believe they get better care from their PCP rather than from a specialist. That is because PCPs are able to build a long-term, trusting relationship with their patients and work together to meet the patient's needs and goals. That is why patients prefer to have their PCP handle as much of their healthcare as possible and why adding additional ancillary products to provide more services is critical.
These "in-office services" offer PCP patients unparalleled convenience, time-savings and increased confidentially.
The constantly evolving healthcare environment of today challenges many patients and physicians when large conglomerates absorb family physicians. Therefore, patients must contend with the inefficiencies and non-personalization that these large healthcare systems tend to produce.
MDbizWORX is a leading healthcare consultancy, focused on assisting independent physicians in providing extraordinary patient care while enhancing the health of the medical practice to assure sustainability and continuity of the practice. This creates solid healthcare upon which the patient can strongly rely.
For more information about Ancillary Services, visit http://www.mdbizworx.com.