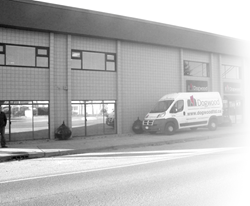 Customer Service is the easiest part of business to get right, and the most detrimental to get wrong.
Vancouver, BC (PRWEB) January 26, 2016
It's been said that change is the only constant. Jason Smith, founder and President of Dogwood Ltd., agrees. His organization has risen quietly over the last 9 years, weathering numerous industry changes and the economic downturn of 2008, to suddenly emerge at the forefront of innovation in the commercial renovation and contracting sector, steadily crafting a new vision for the role of a commercial building contractor. The completion of a re-brand on January 26th, along with the launch of a new branch location in Toronto, has brought the company into the spotlight in the building sector. And elite clients such as Apple, Best Buy and McDonald's are taking notice. Now a national presence, Dogwood's "secret sauce" is something its competitors are finding hard to replicate.
What sets Dogwood apart from its competition is not technology, but people. While most contractors showcase Quality as their core strength, Dogwood operates under the belief that Quality isn't something special: it comes with the territory, and it's the cost of admission. Instead, the team focuses on a service-first approach that embraces the customer relationship as the foundation upon which trust, communication, and good business is built. Drawing on best practices traditionally found in upscale service sectors such as high-end automotive, Dogwood has been patiently raising the bar on what "great" means in their niche.
"We're incredibly selective about who we hire," says Smith. "Recruiting the best people helps us ensure that quality control and great service are built-in, along with a solid understanding of how what we do contributes to the brand image and operations of our customers."
"Our goal is to make sure that the work we do contributes to our customers' brand image and business goals in a meaningful and direct way," states Jamie Bradley, Dogwood's Branch Manager, "It's not simply a building or store we're working on, it's your business. Your vision. It's your life."
Dogwood's own Vision of a high-end national contracting brand that acts as an extended part of its clients' team has been the mission all along. Jason and his team are future focused: "We're proud of what we've built, but this is still just the beginning. For us, our company headline – 'Building Success Through Service' – is our guiding light. We succeed when you do, and we both rise together. Collaboration is the way of the future, and we're excited to be driving force behind that.