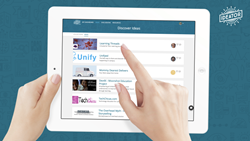 San Diego, CA (PRWEB) January 21, 2016
Ideator, the world's first platform for turning an idea into a business, chose TrustMesh out of 100s of applicants for Ideator's $10K award to help turn TurstMesh's idea into a successful endeavor. TrustMesh offers a service for companies to share the status of their published APIs with stakeholders, meeting the needs of developers and marketing departments who often have trouble communicating with customers. 
Runners-up in this contest include an app that displays real-time data on available parking spots. Already implemented at UC San Diego, they plan to launch at other campuses and parking structures around the country. 
Another runner-up was a startup that enables easy wishing and giving. Users can make a wish happen for someone else and/or submit their own wish for family and friends to fulfill. 
Dozens of other innovative ideas received help from Ideator's advisors and investors to be able to grow their businesses and turn them into game-changers.  Ideator's judging team included leaders from top notch companies and are listed on the Ideator site.
Ideator's site allows people behind great ideas to collaborate with trusted professionals who will offer insight and strategies on how to help a $0 idea become a multimillion dollar business. This platform is open to users anywhere in the world, in any industry and at any stage. Choose from private or public circles depending on whether ideas are ready to be shared publicly. When inviting an advisor to view an idea, an NDA is automatically generated. 
Ideator is based out of San Francisco and San Diego and they have helped people all over the globe. Advisors include experts from Google, Facebook, SalesForce.com, LinkedIn, AOL, Goldman Sachs and more. 
For more information, visit: https://www.ideator.com/
Contact:
ChicExecs PR
820 Los Vallecitos Ste A-C
San Marcos, CA 92069
310.569.6586
ChicExecs PR is an "out of the box" PR company which represents over 70 clients. ChicExecs has created an innovative approach to PR dedicated to helping small-medium businesses receive media coverage. Our revolutionary automated system is changing the face of PR. To learn more about ChicExecs visit http://www.chicexecs.com.