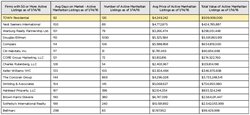 TOWN Residential is leading the industry with an average of 92 days on market – a remarkable 41% below the current industry average.
New York, NY (PRWEB) January 20, 2016
TOWN Residential, New York's preeminent luxury real estate services firm, has released an in-depth analysis of Manhattan's active sales inventory. The report reveals a total Manhattan inventory of 4,881 active sales listings valued at more than $24.182 billion. The average price of the city's active sales listing is $4,954,444 with a current average time on market of 156 days.
TOWN Residential is leading the industry with an average of 92 days on market – a remarkable 41% below the current industry average. The firm is currently representing $509,909,000 in Manhattan sales exclusives which is made up of 120 listings with an average price of $4,249,242.
This most recent report exemplifies the firm's commitment to providing timely and transparent information on current market conditions to ensure that clients and customers are armed with the information that they need to know to make informed decisions.
"We are extremely proud of this statistic, in plain language it means that we not only are pricing our exclusives properly but we are proving the effectiveness of our marketing platform and commitment to best in class service," said Andrew Heiberger, founder and CEO of TOWN Residential.
The creation of a dynamic marketing platform was a fundamental pillar of TOWN Residential's original business plan. In a fast-paced environment of ever-changing technology and client servicing, the unparalleled commitment to cutting-edge resources and innovative marketing strategies has emerged as one of the defining features of the firm.
The firm's abbreviated time on market is a testament to market expertise and the implementation of a hand-crafted approach to the marketing of sale and leasing properties with unequaled distribution online and in print; through press and events; and industry syndication.
TOWN's fully staffed in-house Representative Marketing Department proactively meets with all Representatives and coordinates every detail to ensure a maximum level of exposure for both the Representative and their listings.
"The practice of mis-pricing listings at numbers that sellers love to hear translates to properties being left to languish on the market, thereby losing value," said Wendy Maitland, President of Sales. "TOWN's outstanding performance in achieving outlier success in fewer average days on market than the citywide average by over 40% shows that our Representatives understand that pricing expertise, innovative, relevant marketing, and passionate, authentic salesmanship distinguish a good broker. I'm hopeful that this is the first step toward changing the paradigm by which success in our industry is measured."
"Looking at the average sales prices of available inventory, TOWN is an undeniable source of and synonymous with luxury product," noted Itzy Garay, Executive Vice President of Sales and Leasing.
In 2015, TOWN completed over 1,150 sales transaction sides with an average price of approximately $2,000,000. Among the many achievements in 2015 were ten transactions surpassing $20 million – including a recent $54.75M transaction; and citywide records and Manhattan's highest third-quarter sale with the $37.9 million penthouse closing at The Charles.
This report was prepared on January 14, 2016 by TOWN Residential and is a survey of all active Manhattan listings.
About TOWN Residential - http://www.townresidential.com
Founded in 2010, TOWN Residential was created by founder and CEO Andrew Heiberger and is co-chaired by Joseph Sitt. In just five short years, TOWN Residential has cemented its position as New York's foremost luxury real estate services firm with an exhilarating foundation and seamless execution of best-in-class customer service by an unparalleled team of more than 630 Representatives and professionals strategically located throughout the city. TOWN Residential specializes in luxury residential sales; leasing; the marketing, sales and leasing of property developments; commercial and retail.