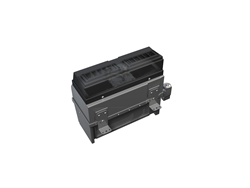 Developing two off-highway operator comfort solutions, one being battery driven and the other featuring a one-of-a-kind thermal storage technology, is what our engineering, research and development teams have worked hard to execute. – Dr. Rolf Haag
Fenton, MI (PRWEB) January 21, 2016
Webasto, the global leader for equipment and vehicle heating and cooling solutions strives to continuously bring innovative comfort solutions to the off-highway market. To complement their Polar Cab TS, an engine-off cabin cooling system that features exclusive thermal storage technology that was recently introduced in October of last year, Webasto will launch the all-new Polar Cab ES at the 2016 CONDEX Show. To see both new engine-off cooling systems visit Webasto booth #618.
The new Webasto Polar Cab ES maintains cool cabin temperatures during wait/load time in hot, humid and full sun conditions. Operators can now turn off their engines and keep comfortable, leading to fuel savings, idle reduction and increased productivity.
"Developing two off-highway operator comfort solutions, one being battery driven and the other featuring a one-of-a-kind thermal storage technology, is what our engineering, research and development teams have worked hard to execute," said Webasto Thermo & Comfort North America President and CEO, Dr. Rolf Haag. "We identified this as a need in the industry and see it as an opportunity for operators to increase productivity while decreasing fuel costs and engine hours," Haag continued.
Polar Cab ES
Webasto's Polar Cab ES battery-driven electric cooling system offers a cooling capacity up to 7,000 BTU/h while maintaining low power consumption and includes a compact 24V variable-speed electric compressor, with no additional batteries required for operation.
The Polar Cab ES can be installed with one of two different aftermarket kit configurations. Operators can decide between a universal overhead compressor/condenser unit with evaporator (Oakland) or a universal vertical floor mounted compressor/condenser unit with evaporator (Osaka). Kits include refrigerant lines and fittings, mounting hardware, control unit and wiring harness.
Polar Cab TS
The Polar Cab TS engine-off cabin cooling system, which was introduced in October of 2015, features an exclusive thermal storage technology. Inside the storage core is a series of aluminum micro-channels, which route liquid refrigerant around a graphite honeycomb substrate that is impregnated with water. This substrate is capable of storing cold energy at an extremely high efficiency. Cold energy is transferred to the cab for on-demand enging-off cooling. The Polar Cab TS has a cooling capacity of up to 4,450 BTU/h. The Polar Cab TS does not require any additional batteries and consumes very little power. The system can be fully recharged within 3 hours. Webasto offers Polar Cab TS as an aftermarket kit which includes the thermo storage core, electrical compressor (24V), condenser with fan, air handler, wire harness and miscellaneous hardware needed for installation.
Visit http://www.PolarCabCooling.com for more product and ordering information.
The Polar Cab ES and TS will also be on display at the world's leading construction equipment trade show, Bauma 2016, April 11 – 17, 2016 in Munich, Germany. Visit Webasto Booth #343 in Hall A4 to view these new products as well as Webasto's full line of heating and cooling solutions for off-highway equipment.

About Webasto:
Webasto Group based in Stockdorf near Munich has been a family-owned business ever since the company was founded in 1901. The group operates internationally at over 50 locations (over 30 of these production plants) in the divisions roof and thermo systems. Webasto is one of the top 100 automotive suppliers worldwide. For 2014 the Group realized a sales volume of 2.5 Billion Euros and employs over 10,000 employees. The company´s core competencies encompass the development, production and sales of complete roof and convertible systems as well as heating, cooling and ventilation systems for passenger cars, commercial and special vehicles, recreational vehicles and boats. For more information please visit http://www.webasto-group.com
Corporate Contacts
Webasto Thermo & Comfort North America, Inc.
Amanda Kopczyk
Ph. 810-593-6070
E-Mail: amanda.kopczyk(at)webasto.com