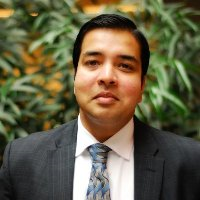 I am very excited to join MAP and derive new and more effective ways for the behavioral health field to use data analytics and technology", stated Avi Mukherjee.
(PRWEB) January 21, 2016
MAP Health Management, LLC, announced today it has hired Avi Mukherjee as its Chief Technology Officer. The position is newly created within MAP's organization based on growth and increasing opportunities in the healthcare technology field. Mr. Mukherjee will be responsible for defining the information management platform for MAP. This will include identifying opportunities and risks for delivering the company's services, including identification of competitive services, opportunities for innovation, and assessment of data security.
Prior to joining MAP, Mr. Mukherjee was the Chief Technology Officer at Geneia, a global healthcare organization renowned for its innovations in technology and healthcare delivery. At Geneia, Mr. Mukherjee focused on building product management and technology teams to work on transformational white space opportunities spanning healthcare business and technology.
"The creation of the position of Chief Technology Officer is a direct result of the dynamic growth MAP is experiencing. Avi will be a tremendous asset to our organization as we continue to develop and combine technologies and resources to the field of behavioral health and beyond," said Jacob Levenson, CEO of MAP Health Management. "MAP's mission is to improve treatment outcomes and we are excited to welcome Avi - his depth of knowledge and experience will propel MAP to strategically achieve our goals."
For the past decade, Mr. Mukherjee has excelled in numerous leadership positions in the areas of product management, clinical interoperability, mobile health, clinical analytics and risk mitigation strategies.
"I am very excited to join the executive team at MAP and drive new and more effective ways for the behavioral health field to use data analytics and technology platforms to make payers and providers more efficient and improve patient satisfaction," commented Mukherjee.
A graduate in Computer and Electrical Engineering from the University of Kalyani in West Bengal, India, Mr. Mukherjee also holds a Master's in Business Administration from the Booth School of Business from the University of Chicago. He also served as a Research Assistant in the Applied Science Program at Concordia University, Canada.
About MAP Health Management, LLC
MAP Health Management is the industry leader in the provision of comprehensive outcomes data, telehealth recovery support programs and revenue cycle management to addiction treatment providers across the country. The MAP Recovery Network, The Premier Outcomes-Driven Provider Network, facilitated by MAP, is comprised of quality addiction treatment providers who differentiate themselves to behavioral healthcare consumers and health insurance payers by measuring outcomes data and demonstrating treatment success rates. Nationally recognized treatment facilities trust MAP to help them navigate and thrive in the new healthcare paradigm by utilizing the latest data-driven technologies, including telehealth services. MAP's dedicated teams of research analysts, clinical directors, recovery advocates, technology professionals and billing experts work to improve patient outcomes, empower treatment providers with data, reduce costs and drive facility revenue. For more information, see http://www.ThisisMAP.com and http://www.MAPNetwork.com.