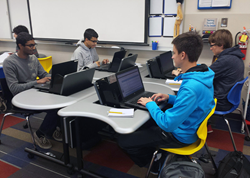 Open sight lines throughout the space for better communication!
Baltimore, MD (PRWEB) January 21, 2016
SMARTdesks announces today that its upgraded flagship flipIT® products are now shipping and will now be featured as options for its entire line of collaborative learning furniture, conference tables and multi-use computer lab desks. Available as retrofit kits, flipIT® can now be installed into any desktop to provide its ergonomic and security benefits anywhere computers and laptops need to be used or quickly and securely stored. [FlipIT Kits are available through Ingram Micro or directly from SMARTdesks.com.
SMARTdesks flipIT® monitor mounting system and flipIT Laptop Safe now have a lid latch that provides a smooth operating release by pull handle or keyboard platform actuation, as well as a positive latch to keep the lid completely closed when closed. The previous model relied on the weight of the monitor to keep the lid closed, and pressure on the back of lid could open the unit without the use of the release handle or keyboard platform. The flipIT Laptop Safe® previously used a touch latch that required the user to press down on the lid for release. In order for the unit to be closed, the previous version required the plunge lock to be used to prevent unintentional opening. The 2016 upgraded version permits the lock to be applied only when needed, eliminates the touch latch and operates with a pull handle release to actuate opening. The lid simply closes, seating on a magnetic tab, latched with spring loaded keeper and hook. The result is completely intuitive user experience: pull the handle to open; pull the lid closed; lock when needed with the keyed plunge lock. The plunge lock is optional for the flipIT® monitor mount system, but standard with the flipIT Laptop Safe®.
The FlipIT® Monitor Mount System makes any desktop a multi-use workspace. FlipIT rotates LCDs into a semi-recessed position— perfect for the user to view the screen and to have unobstructed sight lines in the classroom. Computers can be instantly put away when the teaching method shifts from computer use to lecture, demonstration, or focus on textbooks or mobile devices. This opens up lesson plans and makes the computer classroom a truly multi-purpose classroom where computers are not in the way or causing a distraction. FlipIT® allows freedom of access under complete instructor control.
The low screen position facilitates communication with unobstructed sight lines. Perfect for conference room studios where cameras are used for teleconferencing. Data screens can now be placed in the personal spaces of participants, or flipped into the table top if not needed. Also perfect for computer-based training, because the LCD screen is in the visual plane of both the work surface and the presentation. Monitors must comply with VESA standards (wall mountable).
FlipIT® comes in two styles: Model FIK includes a "no bounce" 26x8 keyboard/mouse platform featuring genuine Accuride® steel bearings and a 75-pound load rating. Pulling out the keyboard platform releases the lid latch and actuates opening.
Model FIH has a PULL Handle instead of a keyboard platform.
The handle releases the lid latch and actuates opening. Both models have a positive latching lid to keep it closed while used as a desktop. Both models may be equipped with a keyed plunge lock, which is optional.
FlipIT® comes in two monitor sizes
Models FIK and FIH 19 accommodate 16:9 aspect ratio Widescreen LCD monitors up to 18.875" (479.425 mm) maximum case width. The FlipIT 19 works better for smaller desk spaces using up to 20" displays. Models 23 accommodate monitors up to 23.25" (590.5 mm) maximum case width (most 24" displays).
Displays MUST be VESA compliant (wall mountable).
The FlipIT Laptop Safe® provides convenient laptop security that keeps laptops secure under lock and key, but keeps them powered up, charging and updating on the network. FlipIT® Laptop Safe permits complete power and data wire management and connectivity when locked, so there is no need for an extra laptop charging cabinet for network updates. This saves valuable class time and physical stress on laptops! When installed in podiums, the presenter can preflight the show, then put the laptop to sleep, safely under lock and key, and take a break. The show is ready to start in seconds. Installed in conference tables, laptops can be conveniently stored when breaks are taken.
Proper ergonomics for the computer classroom— the FlipIT Laptop Safe® lid opens to a lower profile than the laptop screen, keeping sight lines unobstructed. It can be used at the podium or at computer tables, sized at the right height for laptop use.
FIL-18 flipIT® Laptop Safe capacity:
16" (406.4mm) wide x
14.625" (371mm) deep x
2.5" (63.5mm) thick.
FIL-23 flipIT® Laptop Safe Capacity
22.25" (565mm) wide x
14.625" (371mm) deep x
2.5" (63.5mm) thick.
FlipIT® products with locks restrict access to data, especially relevant for healthcare environments and compliance with HIPAA §164.310 providing physical safeguards to restrict access to patient information. For Department of Defense and government agencies, flipIT® Laptop Safe meets National Security Guidelines described in the Safety Act of 2002.
SMARTdesks designs and manufactures innovative, custom computer conference tables and computer classroom furniture. Each product is made to order, nuanced for the technology, purpose and interior design choices for the space. SMARTdesks is the patent holder for flipIT® products (US Patent No. 7,509,912) and is the sole source for flipIT and factory integrated flipIT furniture products. Serving universities, corporations, government and military clients world-wide, SMARTdesks furniture is made in the USA using Certified GREEN manufacturing methods. For more information, contact smartdesks through the web site— http://www.smartdesks.com