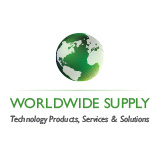 FRANKLIN, NJ (PRWEB) January 22, 2016
Worldwide Supply has earned certification as an E-RAN 200 Certified installation company from SpiderCloud Wireless, a manufacturer of indoor small cell infrastructure.
"We're aggressively seeking next generation partners like SpiderCloud who provide our mobile operator customers with higher quality, longer product life spans and very competitive pricing," says Jay VanOrden, CEO, Worldwide Supply. "This solution solves coverage issues that our growing base of Tier 1 carriers and enterprise customers are both facing."
SpiderCloud's small cell infrastructure provides wireless carriers with a vehicle to offload capacity in highly populated areas--hotels, malls, indoor sports arenas, conventions centers--and provides higher quality coverage in indoor spaces not fully covered by the existing macro cell. As a result, customers enjoy a significantly higher quality user experience.
Worldwide Supply is also TL 9000 and 9001:2008 Quality Management Systems Certified.
About Worldwide Supply
Worldwide Supply is the global leader in networking hardware and services solutions with an expertise in the data, wireless and wireline technology sector.
Headquartered in northern New Jersey, with offices in California, Hawaii, Massachusetts, Mexico, New York, Netherlands (Europe), North Carolina and Texas, Worldwide Supply provides products, asset management programs, technical services and third party NetGuard maintenance to clients globally.
Worldwide Supply backs the products it sells with an industry-leading lifetime warranty and offers products from major manufacturers like Cisco, Juniper, Arris, Alcatel-Lucent, Ericsson, Nokia and more.
To learn more about the installation of SpiderCloud's E-RAN 200 system for your business, call 888.328.2266.