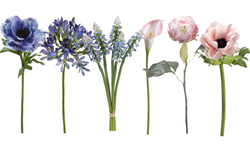 Creative Director for Afloral, Alexis Montano adds "Afloral.com predicts that many brides and grooms will choose 2016 pantone colors for their wedding."
(PRWEB) January 22, 2016
For the first time in history, Pantone has announced two colors for its Pantone color of the year; Rose Quartz and Serenity. Alexis Montano, Creative Director for Afloral, adds "Afloral.com predicts that many brides and grooms will choose the new Pantone colors for their 2016 wedding." The idea behind the fabulous colors of Rose Quartz and Serenity is to strike a balance between warm and cool tones that introduces equilibrium and calm into today's stress-filled world.
These colors fit perfectly into a wedding theme choice; not only because they are gorgeous, but because they also represent two separate colors coming together to create a whole new color meaning. This fits perfectly as a reflection of the symbol of marriage - two individuals coming together to create a union.
Rose quartz and serenity are also the perfect inspiration for beautiful wedding flowers. Afloral.com helps brides by providing inspiration for wide variety of beautiful flower choices in these tones from beautiful blue anemones to sweet pink peonies.
There are an unlimited number of ways to make use of these Pantone colors in 2016 weddings. Combine flowers in these hues of light pink and soft blues in a bouquet with full, hanging greenery for a beautiful bohemian wildflower look. Consider placing beautiful blue flowers in a rose-colored mercury glass container for a rustic glam or vintage feel. For other vintage options, add a blue ribbon to a blush pink bouquet, or use blue flowers in a bouquet or boutonniere and finish with a light pink ribbon. Line the wedding venue aisle in freeze-dried rose petals of light pink and light blue for a beautiful decorative touch.
Submersible centerpieces are also a popular choice with modern brides, and they are easy to create. Combine vase filler in a soft pink tone with blue orchids as a beautiful way to use the Pantone color combo in a submersible centerpiece.
Floral walls are in demand for brides this season. Create a floral wall using silk flowers fading from Rose Quartz pink to Serenity blue and all the periwinkles and purples in between. Use tulle in both Pantone colors on chair backs. The layering of tulle in these two colors will create the beautiful blending of both shades with a soft romantic feel.
Paper decorations are also on trend. Use paper garlands, tassels, or fans that range from Rose Quartz pink to Serenity blue as reception hall or photo booth décor.
For a beach theme wedding, these two colors represent a sunset sky on the beach. Add to that beauty with some soft blue sea glass and lavender pink orchids in your centerpieces to reflect the beauty of the ocean at dusk. Place beautiful blush roses in blue tinted vintage bottles for a softer, vintage beach wedding.
There are endless possibilities for the 2016 Pantone colors of the year. These colors will bring balance, harmony, and romantic beauty to any wedding theme. Dream big, be creative, and use Rose Quartz and Serenity to signify the harmonious blending of two into one.