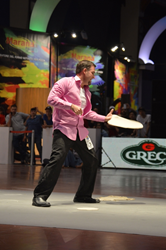 Columbus, Ohio (PRWEB) January 21, 2016
The Groupon U.S. Pizza Team is conducting its Winter Acrobatic Trials at the 2016 North America Pizza and Ice Cream Show (NAPICS) Jan. 24-25 in Columbus, Ohio, announced PMQ Pizza Magazine.
The Trials draw pizza athletes from across the country to compete for a spot on the team and a grand prize trip to Parma, Italy, to compete in the World Pizza Championships in April 2015. http://youtu.be/8sF-zpNMl30
Competitors will be tested on a variety of dough skills, such as largest dough stretch, fastest pie maker and freestyle acrobatics. The event will also include a fastest box folder competition. Events will take place from 11 a.m.-3 p.m., Jan. 24-25 at the Greater Columbus Convention Center. For more information on the competition or to register, please visit http://www.pmq.com/trials, or contact Brian Hernandez at 662-234-5481 x129 or by email at brian(at)pmq(dot)com.
The Groupon U.S. Pizza Team consists of expert pizza makers and dough-spinning acrobatic performers from pizza restaurants across the United States. The squad won second place in Individual Free Style in 2014 and first place in the Team Acrobatics World Championship in Italy in 2011. PMQ Pizza Magazine, the leading business trade publication for the pizza restaurant industry, created the U.S. Pizza Team in 2000.
PMQ Pizza Magazine, the pizza industry's leading trade journal and business media company, created the Groupon U.S. Pizza Team in 2000. For more details about the USPT or the World Pizza Championships, visit http://www.USPizzaTeam.com.
The US Pizza Team is sponsored by Groupon, Grain Craft, California Milk Advisory Board, Gordon Food Service, LaNova, Paradise Tomato Kitchens, WestRock, SOFO Foods, Bag Solutions, Fontanini Meats, Lillsun, Marsal and Sons, Univex, PizzaInsurance.com and Presto Foods.