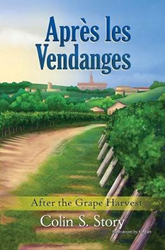 "This intriguing memoir provides a fascinating look at what it's like to live in another country." - Robert Fletcher, CEO of Strategic Book Publishing and Rights Agency
(PRWEB) January 28, 2016
In 1994, the author first came to Aquitaine in southwest France to start renovating a friend's property. His book tells of transitioning from leaving North Wales 10 years later, and then settling in France's Dordogne department region. His story covers the highs and lows of his first 12 months in the country.
Colin worked the grape harvests with a French family near Monbazillac and at St. Emilion, learning to speak and understand the area's colloquial language, which certainly isn't the French he learned in school. To top off his love for France, he meets the Frenchwoman who is to become his wife when he is introduced to a pretty French lady at the local summer fête.
And it all happened "Après les Vendanges: After the Grape Harvest."
Watch the video at: https://www.youtube.com/watch?v=Z2U-TF0S6oI&feature=youtu.be
"This intriguing memoir provides a fascinating look at what it's like to live in another country. We are thrilled to announce its release," said Robert Fletcher, CEO of Strategic Book Publishing and Rights Agency.
About the Author: Colin S. Story was born in Wrexham, north Wales, U.K., and grew up in a village called Coedpoeth, about 12 miles from the English city of Chester, a walled city founded by the Romans. Now retired, he taught English to French adults at St. Laurent des Hommes, the village where he now lives in France. This is first book.
APRÈS LES VENDANGES: AFTER THE GRAPE HARVEST (Kindle ISBN: 978-1-68181-504-6, eBook ISBN: 978-1-68181-503-9) is available for $9.99 at http://epubco.com/shop/products/after-the-grape-harvest-apres-les-vendanges-by-colin-s-story/ and in multi-formats for other e-Readers through numerous vendors online.
The soft cover version (ISBN: 978-1-62857-572-9, $18.50) can also be ordered through the publisher's website: http://sbprabooks.com/ColinSStory or at Amazon.com or Barnesandnoble.com.
WHOLESALERS: This book is distributed by Ingram Books and other wholesale distributors. Contact your representative with the ISBN for purchase. Wholesale purchase for retailers, universities, libraries, and other organizations is also available through the publisher; please email bookorder(at)sbpra(dot)net.