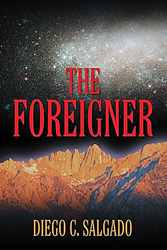 "It's an exceptional book. This novel is engrossing from the beginning to the end. The characters are captivating and it hides a metaphysical meaning. It's a visionary work of art." - Review from BN.com
(PRWEB) January 29, 2016
When Alex arrives in South Florida as an immigrant, he struggles in his new surroundings and with helping his mother living back home. Revelations about his future come from a gypsy, who predicts his destiny will unfold on the West Coast. Alex packs up and heads to California, where he tries to join a spiritual organization named the Elixir Foundation. After being rejected, he meets the special woman in his life, only to have her be seduced by the charismatic leader of a criminal organization, one that is linked to Elixir Foundation.
What will Alex learn from all of this? He ventures into the desolate Death Valley, where he discovers some universal truths. This bold novel shows one man's yearning to learn new cultures, explore spiritual visions, and live life on his own terms. In the end, he is no longer "The Foreigner."
5-Star Reviews for "The Foreigner:"
"It's a visionary literary work. It communicates a metaphysical meaning in a story where the protagonist attempts to live, dream and survive in a world where human values are in crisis." – BN.com
"It's an exceptional book. This novel is engrossing from the beginning to the end. The characters are captivating and it hides a metaphysical meaning. It's a visionary work of art." – BN.com
About the Author: Diego C. Salgado was born in Buenos Aires, Argentina, where he majored in law, but didn't finish his studies. He moved to Miami at age 24 and then settled in Los Angeles, where he works in retail sales.
THE FOREIGNER (Kindle ISBN: 978-1-63135-977-4, eBook ISBN: 978-1-63135-978-1) is available for $9.99 at http://epubco.com/shop/products/the-foreigner-by-diego-c-salgado/ and in multi-formats for other e-Readers through numerous vendors online.
The soft cover version (ISBN: 978-1-61897-944-5, $13.50) can also be ordered through the publisher's website: http://sbpra.com/DiegoCSalgado or at Amazon.com or Barnesandnoble.com.
WHOLESALERS: This book is distributed by Ingram Books and other wholesale distributors. Contact your representative with the ISBN for purchase. Wholesale purchase for retailers, universities, libraries, and other organizations is also available through the publisher; please email bookorder(at)aeg-online-store(dot)com.