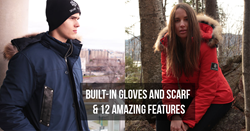 Winter coat should protect you from cold, period.
Toronto, ON (PRWEB) January 21, 2016
What happens when a software developer hacks the winter wear market? Find out January 26th, when the Smart Parka from Toronto start-up North Aware goes live on Kickstarter. The innovative parka features a built-in hat and gloves, pockets for phone and tablet and 12 other features.
The Smart Parka makes it easy to get outdoors in winter, boosting one's physical and mental health. Studies show that just 20 minutes outside a day can significantly improves the mood, but the cold can be intimidating. North Aware is creating products that will make people go out more in winter.
North Aware's Smart Parka gives urban commuters and people on-the-go seven fewer things to worry about. It features a built-in scarf and gloves and customized pockets for glasses, cell phone, tablet, hat and tracker tag. The Smart Parka also features extendable/adjustable length, a detachable hood and a removable lining. The parka comes in three styles for men and four for women. It is water resistant and is built for two different temperature ranges.
Press kit for Smart Parka is available here.
The Smart Parka was built with urban consumer in mind. "Smart Parka shows there's a gap in the outerwear market when it comes to truly protecting people from winter weather," says Khan, "technology is constantly transforming our lives. Why aren't coat makers innovating to meet consumers' changing needs?"
Khan is a Toronto-based software engineer who has worked with startups for seven years. As a frustrated commuter who often forgot his gloves in Toronto's harsh winters, Khan dreamed up a parka that solved the problem. He left his six-figure-salary job as senior developer in January, 2015 to pursue his dream of creating a smart winter coat.
"I wanted to make a complete winter coat," says Khan, "we're hoping to see the winter coat industry changed forever on January 26th."
Although all the coat models can be seen at North Aware online store, the Kickstarter will be live on Tuesday, January 26th at http://kck.st/1PGoI1u at 10:00 AM EST. While the retail price of the Smart Parka is $740 (CAD), Kickstarter backers will get it for a discounted price starting at $295 (CAD). With the exchange rate benefiting US buyers, people in the states can get the parka for around $200 (USD).