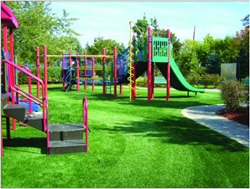 Many members of the community have commented on how nice the lawns look and what an improvement they have made on the campus.
(PRWEB) January 28, 2016
EasyTurf, a FieldTurf® company, has completed synthetic turf and playground renovation projects at various school sites in the Chino Valley Unified School District in San Bernardino County, beautifying play areas with child-safe, water-saving turf that will stay green year-round.
The projects included the installation of over 31,000 square feet of synthetic turf, removal and disposal of existing rubber and organic surface materials, and the installation of new perforated drainage systems.
The EasyTurf installations included the playgrounds at Walnut Avenue, Michael G. Wickman and Edwin Rhodes Elementary Schools; front entrances at Ramona and Magnolia Junior High Schools; parking lot and entrance to Chaparral Elementary School; and the administration building and circle area at Ayala High school.
EasyTurf synthetic grass provides a water-wise, low-maintenance lawn that is ideally suited for schools and playgrounds. Bark or rubber playground surfacing chunks deteriorate and displace over time and require continuous maintenance such as leveling, grading, and raking to maintain appropriate depth and sifting to remove foreign matter. These materials also tend to wind up in kids' shoes, are dragged into indoor spaces, and pose tripping or choking hazards. Additionally, EasyTurf synthetic turf for commercial playgrounds can last nearly twice as long as poured-in-place rubber surfacing systems, which are prone to cracking and hardening over time.
"Countless schools have already opted to replace their poured-in-place surfacing with artificial turf," said Charles Colletti, Director of the Commercial Division at EasyTurf. "Due to its realism, it looks better. Because of its softness, it feels better. And since it's so durable, it lasts longer. We are thrilled to have been part of the beautification process at the Chino Valley Unified School District sites as well as schools throughout the country."
EasyTurf playground surfacing features FallSoft™ Technology, which incorporates a water-permeable safety pad installed beneath the turf materials to provide an additional layer of protection against falls from play equipment. IPEMA Certified, EasyTurf is able to meet the ASTM 1292 fall height requirements for up to 9 feet (14-foot heights can be certified with additional ASTM testing) and meets ASTM 1951 ADA certification requirements.
"The students enjoy and appreciate the turf, and their parents and the faculty seem to as well," said Bill Childress, Construction Coordinator for the Chino Valley Unified School District. "Many members of the community have commented on how nice the lawns look and what an improvement they have made on the campus."
In addition to Chino Valley, EasyTurf has completed numerous installations at school districts throughout Southern California and nationwide.
About EasyTurf®
EasyTurf, a FieldTurf® company, provides environmentally friendly residential and commercial lawns, recreational fields, playgrounds, putting greens, and conservation plans for communities throughout North America. The state-of-the-art turf offers realism, drainage, and durability for both residential and commercial applications. EasyTurf is based in Vista, Calif. (northern San Diego County). More information is available at http://www.easyturf.com or by calling (866) 352-0233.