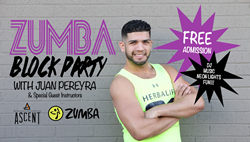 This nightclub-like party is so much fun, you won't even know you are burning calories
Houston, TX (PRWEB) January 22, 2016
Ascent Fitness will host an outdoor dance party featuring Zumba, a cardio dance style that uses low-intensity and high-intensity moves for an interval-style, calorie-burning party. "This nightclub-like party is so much fun, you won't even know you are burning calories," said owner, Karyn Snyder
The Zumba Block Party, which features zumba dance classes, will be the first of a series of events where a live DJ will be added to various exercise classes to create a vibrant and creative atmosphere and add fun to the average cardio class. "If you love to exercise and dance, then this party is for you! It's full of music, night lights, high energy, fun choreography, and open to all fitness levels. This event is sure to get you sweating and dancing the night away to some of your favorite jams," said Juan Pererya, the featured instructor for the evening.
The next event in this series will include a "Spin & Sin" night in which participants will enjoy a live DJ spinning tunes to an indoor cycling class, followed by drinks at the Alabama Icehouse.
Ascent is the first studio in Houston to offer Virtual Reality indoor cycling classes, which has technology that not only links up each bike to an avatar on screen, but it also emails the individual their personal performance data after class. "This allows the rider to see results as time goes on and know if they are doing what they need to do to get to their goals, whether it be the BP MS 150 ride, weight loss, or any other personal goal," Snyder stated.
More information can be found at http://www.ascent.fitness/