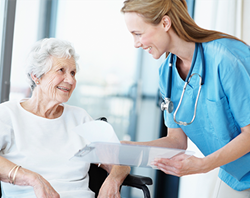 The majority of living wills presented to various health care providers were incorrectly interpreted as synonymous to DNR orders (EMS 89%, RN 79%, MD/DO 64%).
Collierville, TN (PRWEB) February 01, 2016
LifeWings, a leader in patient safety improvement programs, today announced a new free tool to help hospitals prepare for significant changes in end-of-life care needs. The Centers for Medicare and Medicaid Services (CMS) have approved payment for voluntary end-of-life counseling as part of its 2016 Medicare physician fee schedule. The Centers for Disease Control and Prevention (CDC) recognizes this public health opportunity to educate Americans, especially older adults, about advance care planning to improve their quality of care at the end of life. The American Medical Association and many other medical societies also support paying for end-of-life counseling. And, the Institute of Medicine (IOM) recently released a groundbreaking report on end-of-life care that focused heavily on the projected costs, limitations of living wills, and promotion of Physician Orders for Life-Saving Treatments (POLST).
These efforts are striving for patient-centered end-of-life care, but advance care planning should be viewed as preparation for both critical illnesses when patients would desire treatment, and also end-of-life care when patients would wish to forego treatment. Advance Directives (ADs) have been in existence for over 30 years, and have proliferated: Living will, "Five wishes" document, "Right to live" living will, "Right to die" living will, "Natural dying" living will, etc. Beginning in 1991 many leading medical ethicists recognized that advance directives were inadequate for patients with serious illness or frailty. A group of stakeholders developed a new tool for honoring patients' wishes for end-of-life treatment. After several years of evaluation, the program became known as Physician/Medical Orders for Life-Sustaining Treatment (POLST/MOLST).
Dr. Ferdinando Mirarchi is the principle investigator in a series of studies entitled "The Realistic Interpretation of Advance Directives (TRIAD)," and his findings are troubling. According to his research, the majority of living wills presented to various health care providers were incorrectly interpreted as synonymous to DNR orders (EMS 89%, RN 79%, MD/DO 64%). His research also found that this confusion is not confined to living wills, but affects the POLST process as well. The Joint Commission confirms that this represents a new patient safety risk. Dr. Mirarchi also noted that based on provider understanding in the setting of critical illness, patients are at risk to be either over- or under-resuscitated. While ADs and POLSTs are well intended and can be effective, TRIAD research reveals they may be compromising patient safety (under-resuscitation) and patient-centered care (over-resuscitation). Dr. Mirarchi is the first to point out that this isn't a problem with the POLST/MOLST paradigm or the living will documents themselves. Rather, it's a failure to provide adequate education for health care providers in how to interpret these documents. Dr. Mirarchi found that by applying TeamSTEPPS methodology he learned during his collaboration with LifeWings at UPMC-Hamot, he could consistently engage the health care team through the use of a Resuscitation Safety Checklist.
Because LifeWings has helped over 170 health care organizations around the world implement checklists and other evidence-based best practices, Dr. Mirarchi has chosen them to help him address the alarming shortfall in assuring patient safety and patient-centered care. Steve Montague, Executive Vice President of LifeWings stated that, "While replicating Dr. Mirarchi's success seems to be a fairly straight-forward proposition, Dr. David Urbach, a surgeon at the University of Toronto who led a study of the adoption of the WHO Surgical Safety Checklist in Ontario, refutes that notion, 'A lot of studies that should be a slam dunk don't seem to work in practice.' This is why we created Get It Right, a comprehensive package to diagnose and treat institutional gaps in assuring safe, patient-centered care."
To help hospitals get started on the process of assessing and planning for improvement in this critical area, LifeWings is making the Resuscitation Checklist, available free at http://www.saferpatients.com/knowledge/advance-directives.html.
About LifeWings
LifeWings Partners, LLC is a team of physicians, nurses, Toyota-trained Lean experts, health risk managers, astronauts, military surgeons, and flight crews. The team was the first in the U.S. to study the best practices of organizations with high reliability, and successfully adapt their strategies for use in health care. They have distilled the methodology used in commercial aviation, military aircraft carriers, nuclear submarines, and cutting-edge manufacturing to help health care organizations create safe, efficient, high-quality hospitals and clinics.