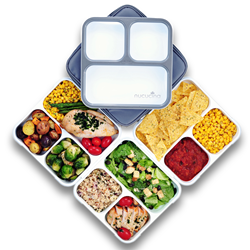 We have products that will make our customer's lives easier and better, and we want to ensure that those in need around the world also have better lives
Portland, OR (PRWEB) January 21, 2016
Nucucina, the innovative leaders in modern tools for the household kitchen recently announced a brand new addition to their winning product lineup. The new Nucucina Bento Lunchbox Set is a sleek and modern take on a worldly classic.
The space-saving design of this slim lunch bag is a stylish modern update on a traditional concept. Inside, food is secured in a leak-resistant bento box. This means food can easily be pre-portioned and won't mix while being jostled in a briefcase, tote, or messenger bag. For an added level of convenience, this smooth and chic lunchbox comes with reusable cutlery as well. Constructed of durable food-safe material, this strong lunch box with an impactful design is sure to follow in the footsteps of other popular product releases from Nucucina such as their popular heat resistant silicone gloves.
Accompanying the launch, Nucucina also recently implemented a new Buy One Feed One program that seeks to affect change within the developing world. For each lunchbox—or any Nucucina product—that is purchased, the company will provide a healthy meal for a child in need in a developing country. Shoppers can rest easy knowing that their purchase contributes to much-needed sustenance that can positively change the life of a child for whom meals are less frequent.
"We're firm believers in corporate responsibility," Sara White, Co-Founder of Nucucina, said. "We have products that will make our customer's lives easier and better, and we want to ensure that those in need around the world also have better lives. The sales of our Modern Slim Bento Lunchbox Set will help us expand our Buy One Feed One program and impact the lives of even more children."
The new Buy One Feed One program is an expression of the Nucucina mission to make a difference in the modern world one child at a time. With a charitable campaign centered on truly doing good in the world and a host of innovative and well-designed products, Nucucina is poised to deliver the next level in quality kitchen products for the modern age.
The Nucucina Bento Lunchbox Set is being sold exclusively through Amazon. The set offers everything all in one lunch bag, making it practical and convenient for any consumer.