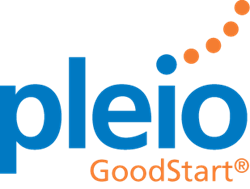 Boston, MA (PRWEB) January 25, 2016
Denver Health Medical Plan, Inc. ("DHMP"), the 2015 Pharmacy Quality Alliance Quality Improvement Award winner, has selected Pleio, Inc. to assist in their objective of continued growth of DHMP Star ratings by increasing the adherence of their Medicare members.
Michelle Beozzo, Pharm.D., Director of Pharmacy for DHMP stated, "We are excited to partner with Pleio; their non-clinical peer-to-peer behavioral change approach to improving member adherence, while integrating with our clinical pharmacists, is not only innovative, but a winning combination."
The Pleio GoodStart® medication adherence solution integrates live outreach to members utilizing GoodStart Mentors™, data analytics, and a menu of digital adherence tactics to help members succeed on therapy and deliver dramatic improvements in adherence. Pleio has demonstrated increases of between 3% and 7% in Proportion of Days Covered (PDC) in broad, non-risk stratified populations of Star rated members.
Mark Connors, CEO commented that "since 2006, the Pleio GoodStart program has improved the health of millions of members through better adherence to medications. We are pleased to have the opportunity to work with such a progressive health plan, and amplify the effectiveness of their clinical pharmacists."
About Denver Health Medical Plan, Inc. (DHMP)
Denver Health Medical Plan, Inc. is a nonprofit health plan created in 1997 to provide quality, accessible and affordable health care services in the Denver area. In partnership with the DHMP provider network, Denver Health Medical Plan, Inc. continually seeks to improve the health and wellbeing of its members by promoting wellness and disease prevention, providing access to culturally diverse comprehensive health services and enabling members to play an active role in their health care. Denver Health Medical Plan, Inc. provides health insurance for 20,000 members in the Denver area as well as administers benefits for a 65,000 member Medicaid Managed Care Organization (MCO). http://www.DenverHealthMedicalPlan.org
About Pleio, Inc.
Pleio is a leader in patient engagement and medication adherence. We instill lasting behavior change in patients though multi-channel engagement involving artfully-scripted, non-clinical conversations with GoodStart Mentors™, digital outreach, and seamless integration with retail pharmacy. Pleio's proprietary adherence lifecycle management platform controls the timing and nature of all patient touch points in the GoodStart program, which delivers revenue, improves quality and reduces medical costs. http://www.pleio.com