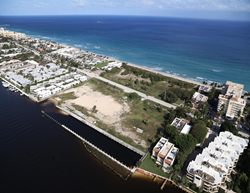 It represents one of the last opportunities to own significant oceanfront and Intracoastal acreage in the 'Millionaires Mile' area.
Fort Lauderdale, FL (PRWEB) January 21, 2016
SVN®/Moecker Realty Auctions —a specialist in marshalling assets within insolvency proceedings and a member of SVN Auction Services—is coordinating the sale of undeveloped acreage in prestigious Hillsboro Beach, Fla. Offered as two portfolios totaling more than 14 acres, the land assets are located in an area commonly referred to as 'Millionaires Mile' because of its highly valued oceanfront homes and affluent community.
The U.S. Bankruptcy Court Southern District of Florida, West Palm Division (case no. 15-26155-EPK) has ordered the sale of these two portfolios along State Road A1A. They feature a tax assessed value of more than $50 million and are predicted to sell well above this value. They are slated to sell on or before Sept. 27, 2016.
The Town of Hillsboro Beach is on the Atlantic Ocean between Deerfield Beach and Pompano Beach. It has a population of approximately 1,900 and is well known for its ultra-luxury estates, beautiful scenery and spectacular views of the ocean and Intracoastal Waterway. The area received national attention for a lavish home that was listed for sale at $139 million, making it one of the most expensive in the United States.
"It's very rare to find this quality and quantity of acreage in Hillsboro Beach still available for development," said Keith Kidwell, SIOR, CCIM, Managing Director of SVN/Moecker Realty Auctions. "It represents one of the last opportunities to own significant oceanfront and Intracoastal acreage in the 'Millionaires Mile' area. We anticipate significant investor and developer interest."
Located at 1174-1185 Hillsboro Mile, the Enclave at Hillsboro portfolio consists of +/- 11.3 acres of pristine, never developed beachfront land. It features an unprecedented 600 feet of direct Atlantic Ocean frontage and 600 feet of direct Intracoastal frontage. The property is zoned for multi-family use, allowing for the development of up to 16 units per acre for a total of 168 residential units and is currently parceled into twelve, single-family oceanfront and Intracoastal lots.
The second portfolio, located at 1103 and 1107 Hillsboro Mile, consists of a rare +/- 3.35 acres of adjoining lots with +/-340 feet of beach frontage and +/- 340 feet of Intracoastal frontage for the mega-yacht enthusiast, just minutes to the Hillsboro Inlet. The lots can be divided into three parcels and feature incredible subterranean potential with +/- 16'-17' grade perfect for an underground garage for the connoisseur automobile collector.
For more information on these 'Millionaires Mile' portfolios, visit: http://properties.svn.com/enclave and http://properties.svn.com/hillsboromile.
About SVN/Moecker Realty Auctions
SVN/Moecker Realty Auctions, a member of SVN Auction Services, features extensive court expertise and provides date-specific sales and special asset solutions in areas such as foreclosures, receiverships and bankruptcies. SVN/Moecker Realty Auction Services offers the industry's most comprehensive spectrum of auction solutions and is part of one of the most recognized and reputable commercial real estate firms in the industry, SVN International, which has more than 800 commercial real estate advisors throughout the nation. This relationship provides outstanding opportunities for SVN/Moecker Realty Auctions to serve clients needing to move assets in timeframes that the bankruptcy court requires and creates significant exposure and thus value for buyers and sellers.
Contact
J. Keith Kidwell, SIOR, CCIM
SVN/Moecker Realty Auctions
954-234-8777 keith(at)svncr(dot)com
Ken Zeszutko
Zeszutko Corp.-PR on behalf of SVN Auction Services
321-213-1818 zeszutko(at)zcorp-pr(dot)com