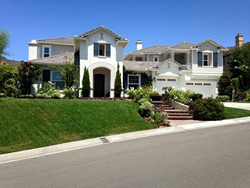 Yorba Linda, CA (PRWEB) February 16, 2016
In a sign of the continuing strength of Orange County's luxury estate market, First Team Real Estate Christie's International announced the completion of two groundbreaking transactions in Yorba Linda's exclusive Kerrigan Ranch.
"The sales at 19877 Trotter for $2.22 million and the sale at 3793 Quarter Horse for $2.825 million are a testament to the hard work and attention to detail of The Williamson Team and specifically Erin Williamson and Christina Loomis," says Terry LeClair, Senior Vice President, Sales for First Team Real Estate Christie's International. "These two leaders have an incredible track record of selling nearly $1 billion in real estate and are one of many reasons the market for one-of-a-kind estates like these two properties maintained solid momentum over the last year, and 2016 looks to be extremely strong as well."
The luxury estate at 19877 Trotter has an incredibly well appointed 5,200 square feet of living space with five bedrooms and six bathrooms spread over just under .4 acres. The sale was recently completed for $2.22 million with the Williamson Team serving as the listing agent. To see their lifestyle video go to: https://www.youtube.com/watch?v=z7zrFwaZ0m8.
"We are incredibly appreciative to Erin and Christina for selling our home so quickly and for an incredible price point," says J. Johnson, the seller of 19877 Trotter.
The one-of-a-kind estate at 3793 Quarter Horse Drive comes with an incredibly generous five bedrooms, six bathrooms, and over 5,834 square feet of living space on nearly an acre of land. The landmark sale was completed for $2.825 million, setting a new record for exclusive Kerrigan Ranch in Yorba Linda. The sale also marks the third largest residential real estate sale in Yorba Linda in 2015.
"With the strength of the Christie's International, Luxury Portfolio, and First Team networks, along with our work on international platforms like Juwai in China, we are able to give estates like these a global audience of high-net-worth buyers," explain Erin Williamson and Christina Loomis. "These estates are generously laid out, impeccably decorated, designed and maintained, while at the same time being extremely approachable and livable for families. Our team worked intensively with the sellers of both of these exquisite properties to ensure that the sellers realized the true premium value for all of their hard work."
For more information on these properties go to williamsonteamproperties.com.
ABOUT FIRST TEAM REAL ESTATE CHRISTIE'S INTERNATIONAL
First Team Real Estate Christie's International specializes in selling Orange County's most unique and exclusive properties. As part of the luxury division of Southern California's most trusted real estate company, First Team Real Estate has been recognized for its unparalleled level of service for luxury buyers and sellers. In 2011, 2012, 2013, 2014 and now 2015, First Team Estates Christie's International was recognized as 'Best of OC' for Real Estate Companies by the annual Orange County Register survey of 100,000 Southern California households. We can be reached at (888) 236-1943 or at firstteam.com.
ABOUT THE WILLIAMSON TEAM
Having closed over 1,000 residential real estate transactions worth over $1 billion in overall sales, the Williamson Team and specifically Erin Williamson and Christina Loomis have proven that by showcasing the incredible lifestyle opportunities provided by one-of-a-kind luxury estates, buyers and sellers can complete the transaction that best suits their long-term goals. They are currently preparing an incredible premier open house for January 30 at the six-bedroom luxury estate at 19228 Lipizzan in Yorba Linda listed for $2,499,999. For more information on the open house and the Williamson Team, you can reach Erin Williamson at (714) 612-4297 and Christina Loomis at (714) 813-2286.