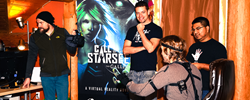 The future of motion capture acting will no longer include the typical green screen and awkward suits in scenarios where actors can only imagine what's in front of them.
Vancouver, Canada (PRWEB) January 25, 2016
As virtual reality continues to quickly evolve, innovations in motion capture by Noitom are allowing developers to extend the boundaries of possibilities. Over the last few months, one such developer—Canada-based Cloudhead Games, who specialize in creating elaborate VR experiences—has been developing a system to record motion capture data from a performer while they are completely immersed in a virtual environment. Cloudhead Games was able to make that happen for their upcoming fantasy VR game, The Gallery: Call of the Starseed, using the HTC Vive HMD and Noitom's Perception Neuron's fully-body, instant motion capture data technology.
The ability to create a truly immersive virtual environment that allows the actor to realistically engage with the world around him is a pivotal milestone for animators and game developers because they no longer need to rely on a green screen and the actor's imagination when capturing the performance for a character. With Perception Neuron as a viable and affordable motion capture tool, studios like Cloudhead Games can opt-out of having to buy or rent the notoriously expensive motion capture systems typically available to them when creating games and animation using live actors. Priced from $799-$1,499, Perception Neuron is the most affordable full-body motion capture system available.
"The future of motion capture acting will no longer include the typical green screen and awkward suits in scenarios where actors can only imagine what's in front of them. You don't need a big production anymore," says Daniel Cuadra, Manager of 3D/VR technologies for Noitom. "The team at Cloudhead Games are true geniuses who are really pushing the boundaries in the VR and gaming worlds. We were honored that they chose to work with Perception Neuron and we can only feel excited about our role in the growth of VR-related technologies."
During the production for The Gallery at the Cloudhead Games studio in Canada, motion capture actor Adrian Hough was strapped into a Perception Neuron suit and the HTC Vive HMD to take on the role of the game's main antagonist, The Watcher. The performance was recorded in a 15X15 capture space. Unique to the experience, Cloudhead developed a way for Hough to walk in VR and trigger environmental cues.
The Cloudhead team had been in search of a way to create an environment where the actor would feel he was performing on a stage, able to see and immerse himself in his surroundings, the player (a stand-in was used) and to experience the space just as the character would.
"After getting our mitts on a Perception Neuron suit from Noitom, we were excited to see the results that their inexpensive, yet robust solution could provide," posted Mike Wilson of Cloudhead Games. "After a short ramp-up time we were able to capture motion data comparable to what we would expect to get from a MoCap system that lives far outside of our budget. It turned out that the Perception Neuron system allows us to quickly capture MoCap data, within the studio, on the fly. This accessibility and short turn-around loop allowed us the needed flexibility to iterate with this new technology, and stub-in animations to ensure that they work perfectly in engine. The added flexibility allowed us to experiment and find uses for animation that we otherwise would not have discovered."
With the VR industry expected to see a massive boom in sales of HMD and other VR device hardware this year, Noitom, the company behind Perception Neuron, will begin to expand into the consumer market while continuing to forge relationships throughout the VR industry. In the first quarter of this year, the Perception Neuron team will embark on their first demo tour through Europe where they will be meeting with various studios and professionals who work with motion capture and VR. European companies working within the VFX, virtual reality, gaming and motion capture sectors are invited to submit a request for a visit from the team at contact(at)neuronmocap(dot)com. Dates for the tour are yet to be announced.
For further information about Perception Neuron, please visit neuronmocap.com. To learn more about Noitom, visit noitom.com.
Founded in 2011, Noitom Ltd. works with a team of dedicated engineers who develop world-class motion capture technology for consumer and industrial markets through the integration of MEMS sensors, pattern recognition, human kinetics and wireless transmission. Noitom is an international leader in innovative technology for use in animation, film, medical applications, robotics and gaming. Noitom is headquartered in Beijing with affiliate offices in Shenzhen. For further information about Noitom and its services, please visit, http://www.noitom.com. For general inquiries, please email, info(at)noitom.com.