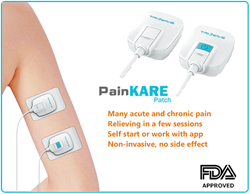 San Jose, CA (PRWEB) January 21, 2016
Combining biosensors, data driven diagnosis and machine learning, TrioWave Technologies has introduced the personalized treatment solution, PainKARE, for chronic pain relief and is raising money on global crowdfunding platform, Indiegogo, to bring the project to life.
PainKARE uses a three tier system to provide comprehensive chronic pain management; the PainKARE Patch, the PainKARE App and PainKARE Plus.
The PainKARE Patch is a Class II medical device that plays as a front end of PainKARE solution for pain relief to low back, arms, legs and other body positions. It acts and responds to the requests from the application for specific treatment and gathers biofeedback for further analysis.
PainKARE Patch is cleared by U.S. FDA for over-the-counter use, meaning no prescription is needed to use the device safely at home. Different from other TENS devices that basically blocks pain sensation to brain for temporarily relief, PainKARE Patch sends tiny electrical current to induce self healing to injured cell, nerve and tissue; potentially curing the injury and rendering it pain-free.
PainKARE App is a mobile app that allows users to view and download protocol for specific pain symptoms and uses an intuitive user interface to operate the device for pain relief. It simultaneously gathers treatment logs including bio-data while providing feedback to perform further analysis while allowing for personalized treatment and adjustment.
PainKARE Plus is an online service which is powered with a clinical database of 200+ protocols of symptom for downloading; a proprietary algorithm that transforms uploaded log to key index; and machine learning that analyzes key improvement index and generates revised protocol to next treatment. It is a foundation to perform preliminary diagnosis and optimized treatment that could only be previously performed by a certified doctor in office.
PainKARE is revolutionizing home care, empowering users to take control of their own healing and pain management. PainKARE uses trio waves from nature, electricity, light and sound, to promote human self healing power to overcome diseases. It is non-invasive and 100% drug free, and can be applied to many symptoms from common pain to complex syndrome.
The PainKARE Pain Management System starts at $99 on Indiegogo. The crowdfunding campaign is now live and available for purchase here: https://www.indiegogo.com/projects/painkare-solution-to-chronic-pain#/
About PainKARE / TrioWave Technologies
PainKARE was created by a group of scientists and technologists at TrioWave Technologies to develop patented technology and innovative portable therapy solutions for people suffering from common chronic pain. Until now these solutions have been reserved for prescription through a healthcare professional. By working closely with clinicians and combining advanced technology, PainKARE brings high quality pain care solutions to the home.
TrioWave Technologies is an innovative healthcare company that develops portable medical technology help patients and physicians better manage chronic pain. The company is located in San Jose, California.
For more information on PainKARE visit: http://www.triowave-inc.com
###