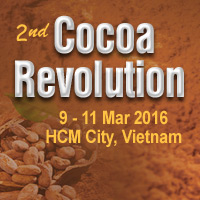 A Keynote Policy Address on Vietnam's plans to develop cocoa as industrial crop will be delivered by Mr. Phan Huy Thong Director & Chairman of Vietnam Cocoa Committee (VCC).
Ho Chi Minh City, Vietnam (PRWEB) January 26, 2016
Honorable Deputy Minister Le Quoc Doanh of the Ministry of Agriculture & Rural Development will inaugurate the summit, followed by a Keynote Address on Vietnam's plans to develop Cocoa as an Industrial Crop by Mr. Phan Huy Thong, Director & Chairman, VCC (Vietnam Cocoa Committee) from the same ministry.
Also presenting at the summit is International Cocoa Organization's (ICCO) Monsieur Laurent Pipitone, Director of the Economics and Statistics Division. ICCO is expected to confer the coveted 'fine or flavor cocoa origin status' on Vietnam in May!
Corporate Sponsor Puratos Grand-Place's® Managing Director Gricha Safarian presents a case study on 'Cocoa Fermentation R&D through Industrial Post Harvest Center'. Puratos also hosts the pre-conference site visit to its Cocoa Nursery and Cocoa Plantation in Ben Tre, Cocoa Fermentation & Drying Plant.
The summit organised by Centre for Management Technology (CMT) also features two chocolate brand owner reps – Mars Foods' Hai Lam Dinh, Vietnam Cocoa Development Manager sharing the company's 'Cocoa Development Journey in Vietnam' and Mondelez' (Cadbury Enterprises) Roopak Bhat, Strategic Sourcing Manager – Cocoa (Asia Pacific) elaborating on its 'Sustainable Sourcing of Cocoa'.
Other highlights include:

Cocoa Quality, Cocoa of Excellence Programme, and the Newly Founded Efforts to Establish a Full Fine Flavor Cacao Grading and Standards System – Guittard Chocolate
Asia Chocolate Demand and Key Trends – Olam
Recent advances in efficient cocoa production in Latin America – Hardman & Co
Managing Cocoa Quality in the Post-Harvest Process – CIRAD
Novel Starter Cultures for Cocoa Fermentation allow tuning of Chocolate Aroma – KU Leuven
Improving Yields to Meet Local Demand (Indonesia's Challenge) – Indonesian Cocoa Board Ministry of Agriculture
Natural Micro Nutrients to Improve Cocoa Yield and Control Black Pod Disease – Essential Plant Solutions
New Challenge for Cacao Beans Marketing – Tachibana & Co
India on the Cocoa Map – The Chocolate Factory Ecuador
View event website for more details.
Contact Ms. Huiyan at +65 6346 9113 for any enquiries.