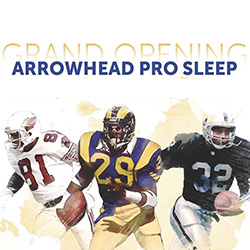 Arrowhead Pro Sleep is working to inform, educate and promote patient dialogue with health care providers about Obstructive Sleep Apnea
Phoenix, AZ (PRWEB) January 21, 2016
ProPlayer Health Alliance along with Arrowhead Pro Sleep is working to inform, educate and promote patient dialogue with health care providers about Obstructive Sleep Apnea. "Obstructive Sleep Apnea 'OSA' is destroying the health of millions of Americans, and the problem has only gotten worse over the last two decades," according to Dr. Timothy Morgenthaler past president of the American Academy of Sleep Medicine. "The effective treatment of sleep apnea is one of the keys to success as our nation attempts to reduce health care spending and improve chronic disease management."
The event Tuesday January 26th is meant to not only raise awareness of OSA but to also celebrate the grand opening of Arrowhead Pro Sleep, the first Sleep Center of Excellence to be recognized by the Arizona Cardinals. Arrowhead Pro Sleep will be located in the same building as Arrowhead Health Centers 16222 North 59th Avenue #A-100, Glendale, AZ.
Despite the increasing prevalence of OSA, a large majority of patients with this ailment go undiagnosed. The goals of Arrowhead Pro Sleep are to address this need by initiating a screening process for all patients presenting to physicians' offices, regardless of physician specialty, and to subsequently test and treat all patients who screen positive for OSA. In addition, Arrowhead Pro Sleep hopes to increase awareness of treatment options for patients with OSA.
Working with Arrowhead Pro Sleep is the ProPlayer Health Alliance. ProPlayer Health Alliance was formed so Pro Athletes suffering from sleep apnea could receive treatment regardless of the players insurance or ability to pay.
Derek Kennard [COWBOYS/CARDINALS Center & Guard], co founder of ProPlayer Health Alliance 'PPHA' was diagnosed with Sleep Apnea and given only one choice of treatment, a CPAP (Continuous Positive Airway Pressure) machine. After trying his CPAP for a few months Kennard met David Gergen who turned out to be a future co founder of the PPHA. After conversing for a few minutes and noticing some very dark circles under Kennard's eyes, Gergen asked Kennard if he was feeling OK. Kennard followed by saying, "I was just recently diagnosed with Sleep Apnea and the problem is I can't wear that mask." Gergen, who owns Gergen's Orthodontic lab, the biggest manufacturer of dental oral appliances in the Country informed Kennard that there were other options such as an oral appliance. Kennard responded with "I will try anything." Within one week of this conversation, Kennard was wearing an oral appliance and sleeping through the night. His Sleep Apnea, which was severe, was completely treated.
A couple of weeks later, Kennard's brother who also suffered from sleep apnea, passed away in his sleep with his CPAP sitting on his shelf (he couldn't wear "the mask" either). Kennard called Gergen and told him about his brother saying, " We can't sit by and let this keep happening… so many people I know, including many of my brothers from the NFL, are suffering. We need to help them." The PPHA was officially formed the following week. To date the PPHA is responsible for treatment of over 250 athletes including, icons such as Charles Barkley an ex Phoenix Sun, Eric Dickerson [ex LA Rams, LA Raiders Running back] and Roy Green [ex CARDINAL/EAGLES Wide Receiver & Cornerback].
Tuesday 6:30 pm January 26th is the date of the public awareness event, so come and meet the stars and learn about treating a deadly disease. Please click link for full event details: http://www.proplayersleep.org/sleep-apnea-awareness-event/
For additional information contact David Gergen, 602-478-9713
Source Pro Player Health Alliance
Related Links
http://www.proplayersleep.org/
About Pro Player Health Alliance
Pro Player Health Alliance is an organization dedicated to helping former NFL players who suffer from sleep apnea. They are dedicated to improving peoples sleep health through education and advocacy. Treating sleep disorders fits the community focus of the Arizona Cardinals. Attending the event will be Larry Fitzgerald, Roy Green, Derek Kennard, Seth Joyner, Frank Sanders, Mark Walczak, Nicole Bidwill and other present and retired Cardinal greats. The sleep apnea awareness initiative is a popular program for retired players across the country. Iconic players and friends of the ProPlayer Health Alliance Hall of fame players Marcus Allen, Eric Dickerson, Jim McMahon and Mike Haynes will also be at the event and will share their personal experiences with snoring and sleep apnea.